A series of events titled 'Manchester Left Labour Students for Corbyn' were held for university students, however were independent from the main Manchester Labour Students (MLS) society, which the paper says caused "much controversy" and led to divisiveness within the group.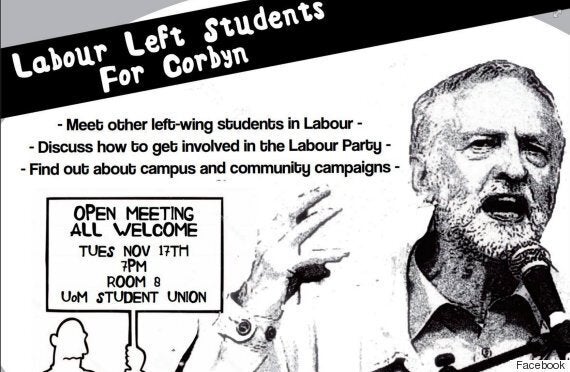 The image on the society's Facebook page
In an email sent to supporters, the new Labour Left Students for Corbyn (LLS) society reportedly said it planned to be "explicitly pro-Corbyn and advocate membership of and involvement in the Labour Party and Labour Students".
The Huffington Post UK has seen documents purporting to show the LLS' aims and policies, which include points such as: "throw the Tories in the sea", "abolish the house of Lords and monarchy" and "[be] radical. Firm on the things we believe in, even when unpopular with the general public, media. Stay normal and sensible - no need for glossy public image."
A spokesperson for the LLS refused to provide HuffPost UK with any information about the group but did add there were no plans for MLS to split, and the documents were "typed up notes of individual people's ideas" and "not all are even serious".
Tom Wilson, who sits on the Labour Students committee, pointed out the splinter group would be an unofficial one, as there could not be two societies affiliated to Labour in within the same university. He added:
Ally Routledge, chair of MLS said: "We've had a really busy semester at Manchester Labour Students, and tonnes of new members have got involved since Jeremy Corbyn became leader. With the help of campaigners new and old we were out on the doorstep in Oldham every day—and Labour won by a huge 10,000 majority!
"The Oldham by-election proved that the Labour Party is stronger when it's united as one and fighting against the Tories. Anyone who wants to help MLS do this is more than welcome to sign up and should find us on Facebook to keep up to date with all the events that our newly elected committee are organising!"
One student representative for the North West Young Labour Committee told the Mancunion: "The role of both Momentum and Labour Students is to support the Labour Party.
"It is deeply disappointing that there are those in both groups that fail to recognise this. I would strongly encourage them to resolve their differences amicably, so the club can be a positive force for young people in politics."
LLS and MLS have been contacted for further comment.