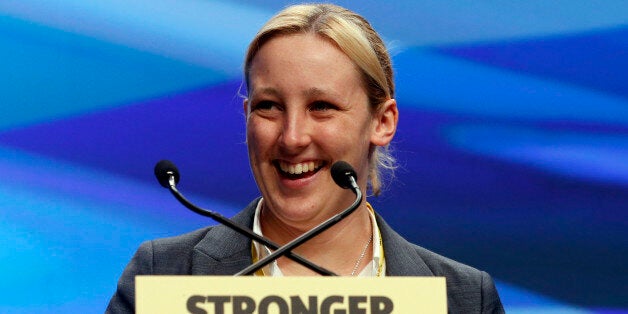 Mhairi Black has become an unlikely winner of an NME 'People of the Year' award, praised for proving age is no barrier to success.
The SNP MP, the youngest elected to Westminster since 1667, was lauded by music magazine editors for "showing that you can change politics", standing out from the line-up of other gong-getters for arts awards for her political prowess.
She was featured alongside Taylor Swift, hailed for becoming the 'most powerful pop star on the planet' and Miley Cyrus, who in turn was commended for 'refusing to conform and celebrating diversity'.
Black, who is 21, was included for "putting the world to rights" and sticking up for under 25s, whom the Government is committing an "all-out-war" on with cuts to welfare and housing benefit, editors said.
"By her own admission, Black is 'fundamentally uncomfortable' in Westminster, and that's precisely why she deserves to be there," the awards text on her reads.
"She might be an atypical politician, but these days, such people are needed more than ever."
Black has been hailed by her party leader, Nicola Sturgeon, for being well in the running to take the SNP reigns in future years.
"I don't like piling pressure on her, but she's so incredibly talented," the First Minister has said of Black.
"If she wants to be, she's a future SNP leader."
The Paisley and Renfrewshire MP was cheered on by her Commons colleagues, including Neil Gray and Pete Wishart.
Previously, Black has played down the impact of her age on working to advocating for her constituents, saying: "People realise it's more about the quality of your argument and the quality of what you're saying.
"They can see past political spin, aesthetic, ages, gender - I can't help what I am.
"They see it more as a breath of fresh air."