Gwen Hartley's daughters, Lola and Claire, have a rare genetic condition called microcephaly, which is the result of the brain developing abnormally in the womb. They cannot walk or talk and together they weigh only three stone.
The 41-year-old mum said her daughters are just like any other girls their age and they love to listen to rap music and watch TV shows about getting married.
"People forget that they're nearly ten and 15 because they're so small. Claire is 3ft tall and weighs 23lbs and Lola is 2ft and 12lbs," said Hartley, from Kansas, America.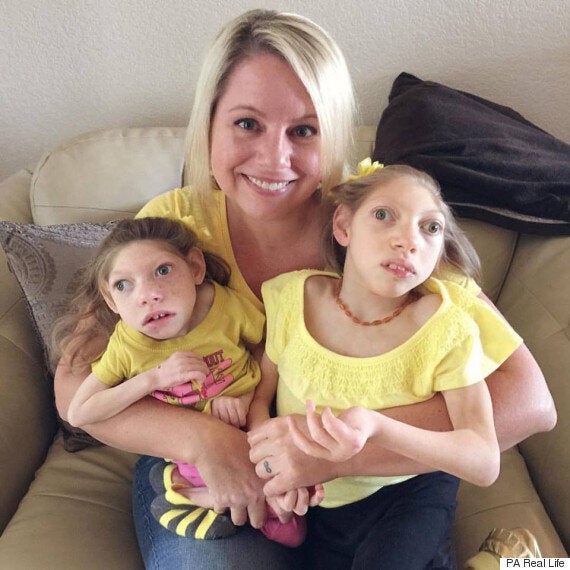 Claire and Lola are often mistaken for babies
Hartley continued: "Some people react inappropriately. They don't understand and point, stare and make faces. They say, 'They're how old?'
"Others say, 'Oh my gosh, can I hold her?' and say how cute they are because I can hold them in my arms.
"Some see them like they're a religious experience, like they're holy or angelic."
Hartley's oldest daughter Claire was diagnosed with microcephaly at three months old.
The mum-of-two explained the ultrasounds she had while she was pregnant with Claire didn't show any signs of microcephaly.
She added that any changes that took place in her daughter after she stopped going for scans at 19 weeks would not have been picked up by doctors.
"It was a shock to see her when Claire was born," Hartley said.
"When she was diagnosed, we were told that some people with the condition did well and could grow up to walk and talk and live until their forties.
"But others suffered seizures and only lived until they were one.
"At the time, Claire would vomit after each feed so she wasn't gaining weight, and I was told she might die from pneumonia.
"We were told to prepare for the worst."
Hartley and her husband Scott were determined not to give up on their daughter.
"We said that doctor doesn't know her and how much she means to us," she continued.
"We'd been told if we put her on drugs and tweak these until we had the right combination for her, we'd be lucky to get a year with her.
"So we decided to go home and try something more natural to see what happened."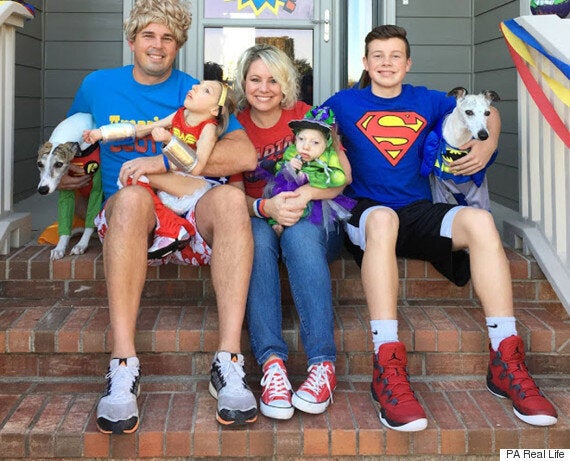 Hartley with her husband, Scott, their two daughters and 17-year-old son Cal
The parents fed Claire a healthy diet of fruit and vegetables, meat, eggs, and goats milk and gave her natural supplements.
Hartley said: "We gave her brain what it might need to help it develop.
"She stopped vomiting and gained weight, which gave her body the chance to take in nutrition and get stronger."
At seven months old, Claire got a cold and Hartley admitted she thought this was "the beginning of the end."
"We were devastated when we learnt Claire might not live to her first birthday," she said.
"We felt like we were living on borrowed time, waiting around for her to get sick.
"But we tried to see every day we had with her as if it was a gift.
However, Claire's doctors told Hartley not to worry and managed to successfully treat her daughter's symptoms.
Five months later, Claire's parents celebrated her first birthday with a huge party. Around 170 guests attended, including family, friends and neighbours.
"We had a princess theme, there was a big cake and a bouncy castle and water slides," the mum added.
"We wanted to celebrate her life and had a big party for her every year for the next seven years.
"Then we said, 'It's obvious Claire wants to be here,' so we stopped having them.
"We stopped worrying about every cold she had too, and about whether she would grow to walk and talk. We just wanted time with her."
When Claire was four, Hartley fell pregnant with Lola. This time, doctors checked the baby for microcephaly whilst she was still in the womb.
"Lola was on track then at 26 weeks we were told her head measurements were five weeks behind what they should be and she had the condition," Hartley recalled.
"We treated her like we had with Claire, though, and she's been fine."
The girls cannot walk or talk, suffer from dwarfism and have visual impairment, meaning their parents interact with them using sensory toys in a darkened room.
Hartley said: "They smile and laugh and recognise people. I know they know who we are.
"They're like any other girls their age. They like gangster rap, R&B and pop. They like Eminem. They love the beat and Claire smiles when rap comes on the radio.
"When their teachers play them nursery rhymes they look bored and pull faces."
The girls are also big sports fans, especially since their big brother Cal, 17, started involving them in his high school basketball team's games by asking the players to fist-bump them as they run on to court.
Doctors warned that the girls would be unable to make any purposeful movements, but Hartley said she's seen Claire appear to push away her glasses.
Praising her remarkable girls, Hartley said: "The girls have grown up in the same community and the community embrace the girls.
"They're like little celebs here. They're well known."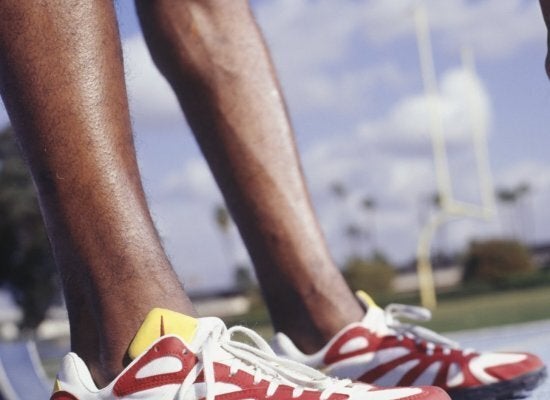 21 Rare Diseases