2015 saw over a million migrants and refugees make their way to Europe, fleeing war, persecution and poverty.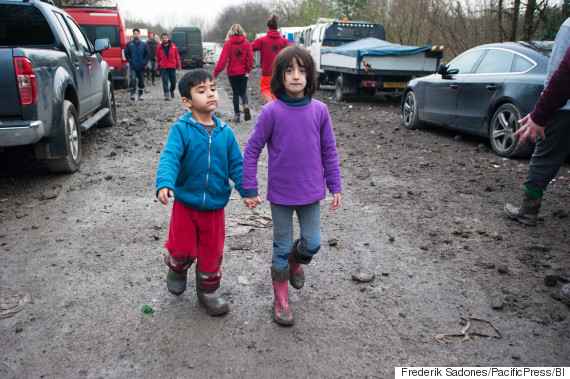 Two refugee school children walk hand in hand at a camp in Dunkirk
The reasons for the huge movement of people are many and complex - as are the reactions of people in host nations worried about perceived effects on security and infrastructure.
Here are nine Twitter accounts to follow to help you gain a broader understanding...
1) UNICEF
The immense suffering behind the #refugeecrisis. @unicefceecis pic.twitter.com/WhkTfRd5YL

— UNICEF (@UNICEF) December 20, 2015
2) Yannis Behrakis
The Guardian has chosen Yannis Behrakis: photographer of the year 2015 @yannisBehrakis https://t.co/YLfFdp5rEj pic.twitter.com/6vzdjhaczh

— Guardian photos (@guardianphotos) December 21, 2015
3) Harry Leslie Smith
Please to say I'll be on @theJeremyVine in 2016r after I return from trip to refugee camps in Greece https://t.co/rNjhaXG0Lw #refugeecrisis

— Harry Leslie Smith (@Harryslaststand) December 16, 2015
4) Charlotte Alfred
Ayham Ahmad, the piano man of #Yarmouk, has fled to Europe and sent this diary of his journey http://t.co/ofJX9xKEmg pic.twitter.com/Sx7Hf8d9NV

— Charlotte Alfred (@charlottealfred) September 20, 2015
5) Peter Bouckaert
Refugees stuck on uninhabited Greek island rescued just now. Thanks everyone. pic.twitter.com/jqYPBW32c4

— Peter Bouckaert (@bouckap) December 21, 2015
6) George Butler
These are some of the drawings I did recently with Save the Children in Serbia/Macedonia of the refugee crisis... https://t.co/VGKQSCeMFZ

— George Butler (@george_butler) December 21, 2015
7) MSF Sea
84% of sea arrivals come from the top 10 #refugee producing countries. The other 16%? Well yes, they're #people too! pic.twitter.com/DLQlkJnR5R

— MSF Sea (@MSF_Sea) December 20, 2015
8) Patrick Kingsley
Despite it being December, there are also more boats than June. And many more lifejackets. pic.twitter.com/z1AGvGLqOn

— Patrick Kingsley (@PatrickKingsley) December 21, 2015
9) Fabio Bucciarelli
are u ready to fight for the right revolution? #war #Syria #USA #Libya #Paris #Europe #SouthSudan #Nigeria pic.twitter.com/xPSyFXLMHX

— Fabio Bucciarelli (@fabio_buccia) November 18, 2015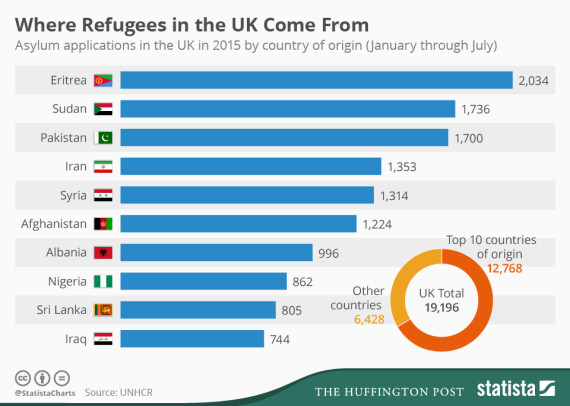 Infographic supplied by Statista
The chart above shows the the origin countries of the 19,196 people who claimed asylum in the UK from January to July of 2015.