A baby, who was born 12 weeks prematurely as her mum had cancer and needed to start an aggressive form of chemotherapy treatment , has died.
Ally Louise Smith weighed just 2lb 5oz when she was born on 11 December. She died only eight days later.
Mum Heidi Loughlin, 33, from North Somerset, announced the death on her blog with a poem titled "Our Beautiful Girl".
She wrote: "Yesterday afternoon our hearts broke in two, for we had to say goodbye to you. Our love for you is a beautiful haze, even though you lived for eight short days."
Cancer mum Heidi Loughlin's premature baby dies. https://t.co/56JysNNqfC pic.twitter.com/k6VCn3Koq1

— BBC Points West (@bbcpointswest) December 20, 2015
The poem continued: "We kissed you, we cuddled you, we tickled your feet and I know again one day we'll meet. Today brought a rainbow, the lightest of hue and I wondered if it was sent from you?
"Our beautiful daughter Ally Louise, I whisper your name and it drifts on the breeze. The pain in my body and heart and my soul, feels it will consume me and leave me un-whole
"Your brothers will honour you in all that they do, we forever have three children, not just two. I will try to heal for you, and my body unfurl, you'll be always beside me our beautiful girl."
Loughlin, who is also mum to Noah, two, and Tait, one, with her partner Keith, was diagnosed with breast cancer in September 2015 after noticing a rash on her breast when breastfeeding Tait.
Doctors gave Loughlin the option to terminate her pregnancy so she could begin "aggressive chemotherapy", but she decided to keep the baby and start on a less aggressive form of treatment.
However, at a follow up appointment Loughlin was told the treatment was not working.
She wrote in a blog post titled 'It ain't working': "I had a follow up Oncology appointment last week and we have concluded that the treatment isn't working to a satisfactory level.
"Ordinarily we would now switch treatments immediately with a miracle drug called Herceptin. Babies and Herceptin don't mix."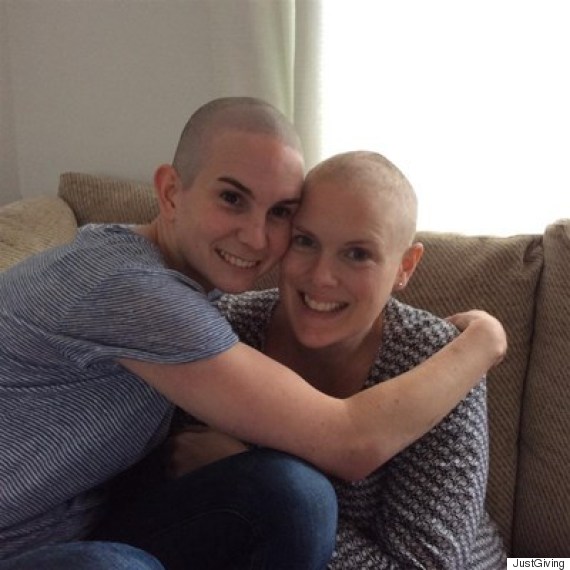 Loughlin (right) gave birth on 11 December
Loughlin said while the prospect of giving birth so early was scary, if she stayed pregnant until New Year's Eve, as originally planned, then there would be a chance she may miss a potential opportunity to be cured.
She wrote on her blog that her daughter was going to be born at 28 weeks and one day - 12 weeks early - on the 11 December.
Writing on her blog after Ally's birth, the mother-of-three said she was "absolutely thrilled" to announce the baby had been born safely.
"She was born today via C section at 12:37.
"She came out foot first and is breathing on her own. She weighs 2lb 5ozs. She has a Loughlin nose and she has more hair than me."
On 20 December, Loughlin announced Ally had died in a blog post that has received more than 200 comments within a day of being posted.
One woman, Marie Lee, wrote: "I pray that you will find the inner strength to carry on. It can't be easy, knowing your have lost your beautiful baby. Hold fast, one day soon, you shall meet again."
Another person commented: "From a retired cop in France, deepest, deepest sympathy brave girl at this saddest of times.
"We hope you will take comfort and find strength from the comments and messages you receive, be aware you have much love and support around the world."
SEE ALSO:

Pregnant Woman With Cancer Will Give Birth 12 Weeks Early To Undergo Lifesaving Treatment

Mum-Of-Three Who Spent £12,000 On IVF Treatment Discovers Possible Link With Breast Cancer Diagnosis

Pregnant Woman Given Months To Live After Cancer Diagnosis, Dies Just Days After