Of all the topics in the news in 2015, perhaps the most extensively debated has been the so-called Islamic State.
Their origins can be traced back all the way to the Soviet invasion of Afghanistan in 1979 but this year has seen them project their terrorising influence to the streets of Europe's cities.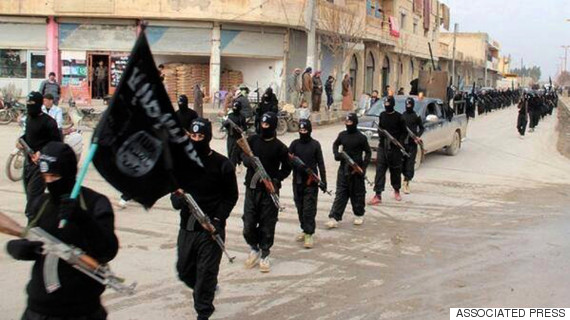 Islamic State fighters marching in Raqqa
Although they recently suffered a defeat at the hands of the Iraqi army, they are certain to dominate headlines in 2016 so keep up to speed courtesy of these folk...
1) Will McCants
Why the Conventional Thinking About ISIS Is Wrong -- an excerpt from my new book http://t.co/ag0ygUlMZO

— Will McCants (@will_mccants) August 20, 2015
2) Andrew Hosken
Empire of Fear chosen by @RosamundUrwin as a best book of 2015 The best books of 2015 https://t.co/DfPPAUDmWy

— Andrew Hosken (@Hoskea10) November 20, 2015
3) J. M. Berger
An updated round-up of reviews for "ISIS: The State of Terror" can be found here http://t.co/ANJbkYAQMs pic.twitter.com/qDb0MEwUBg

— J.M. Berger (@intelwire) August 9, 2015
4) Jessica Stern
My latest in the @TheAtlantic - Containing ISIS: What Would George Kennan Do? https://t.co/TfsxZ4UpyB

— Jessica Stern (@JessicaEStern) December 9, 2015
5) Mike Giglio
Airstrikes alone won't stop ISIS. My story w photog @AymanOghanna on the ground war in Syria https://t.co/T8TSSG7uRe pic.twitter.com/eOeUP5En6F

— Mike Giglio (@mike_giglio) December 1, 2015
6) Jason Burke
Thank you john https://t.co/gFE288NVPs

— Jason Burke (@burke_jason) December 19, 2015
SEE ALSO:
7) Nicolas Henin
My last take in @prospect_uk on Bashar's collusion with IS. https://t.co/0G6Vk0Utcx

— Nicolas Henin ﺡ ✒️ (@nhenin75) December 18, 2015
8) Prospect Magazine
Joseph Conrad: anticipating terrorism–one of our most read pieces this year https://t.co/FwODOi3kE6 #IslamicState pic.twitter.com/LEtELOwo93

— Prospect Magazine (@prospect_uk) December 20, 2015
9) Robin Lustig
2015: A Year of Terror. My blogpost now up on HuffPost. https://t.co/cP8Fbyu90s

— Robin Lustig (@robinlustig) December 20, 2015
10) Charlie Winter
Watch me explain the strategy behind #IS terrorism, with the help of a BBC illustrator, in 2 minutes & 20 seconds.

December 8, 2015