A reindeer galloped down streets after escaping from a Christmas event at a Tesco car park.
The reindeer, called Bjorn, was reportedly startled by a car horn and sprinted away from the car park at the store in Carlton Hill, Nottingham, on Sunday.
He was later found in a nearby garden and returned to safety.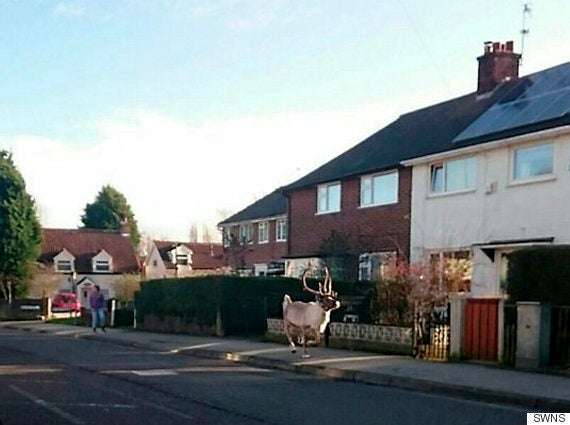 Bjorn during his escape attempt
Gemma Green saw Bjorn galloping past her house and said: "I was putting some Christmas cards up in the window and just saw it come charging down the street."
Warren Porter, 23, from Sherwood, said: "It was one of the weirdest, unexpected sights I will ever witness.
"I was driving down Carlton Hill and saw what I thought was a massive dog running up the pavement.
"I locked my doors and thought 'you're not getting in here, I've got carrots in my boot'.
"As it ran past, a woman dressed in festive gear was chasing up the road with a rope.
"You couldn't create a story like that."
Event organisers The Animal Company said the reindeer escaped after slipping its rope, but was later tempted back into their truck.