A mother has said her family's Christmas has been ruined because an airline refused to let her eight year-old son fly as he wasn't travelling with both parents.
Rachelle Stassen, 33, booked a £4,000 holiday to her husband Martin's native South Africa and the family were due to fly out on 19 December.
When they arrived at the check-in desk, Stassen's eight-year-old son from a previous marriage - Riley Fernandez - was refused on the flight by Turkish Airlines staff.
Even when Riley's dad Jason Fernandez turned up at Manchester airport to give permission in person, staff reportedly refused to back down without a solicitor's letter.
Stassen, also has a daughter Emmie, two, with Martin. She said: "I've never been so devastated in my life, the children are completely beside themselves."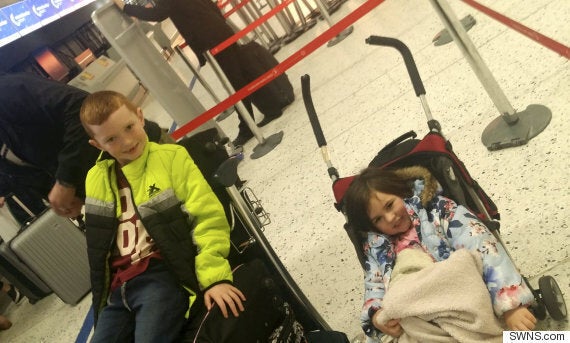 Stassen's two children waiting at the airport
Stassen continued: "The kids don't understand fully. They just keep saying that the man behind the counter was a naughty man.
"The most traumatic thing was that Riley turned around and said 'you can all go without me'."
The South African law states parents travelling with a child under 18 years old are required to produce their full unabridged birth certificate. Single parents also need to provide a written consent from the non-travelling parent in the form of a "legal affidavit".
The family managed to get an official letter from the South African government to fly with the whole family, but staff turned it down when it arrived two minutes after check in closed.
The family were forced to return home, where they had no presents for Christmas because 'Santa came early' due to their planned trip.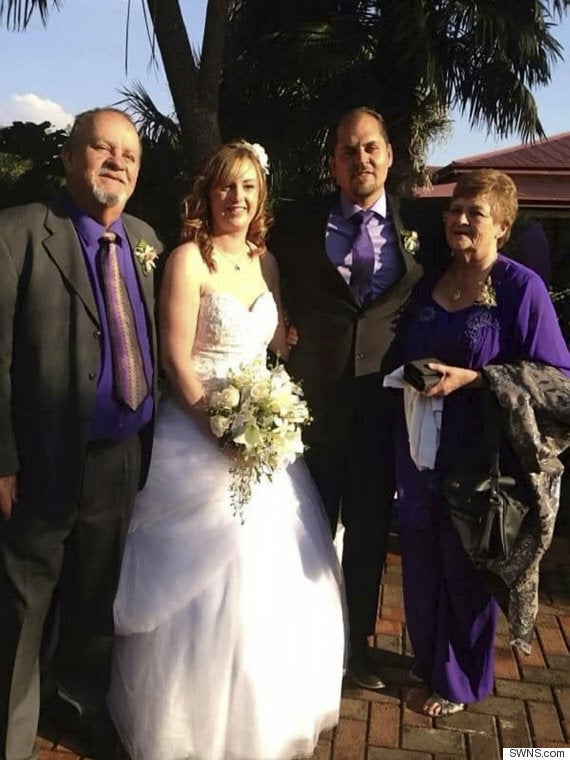 Stassen and her husband at their wedding in 2013
The couple had feared the holiday might be their last family trip to Mr Stassen's elderly parents.
They took Riley's birth certificate and Stassen's ID to prove their relationship, but were horrified when they got to the check in desk and were told they couldn't board.
Stassen said her former partner has no objection to Riley going on holiday to Johannesburg for a 17-day trip to see her husband's parents.
She said: "We were told there was a new law brought in and we needed a consent letter from Riley's dad - and it needed to be done in front of a solicitor.
"We had never been told anything like this before."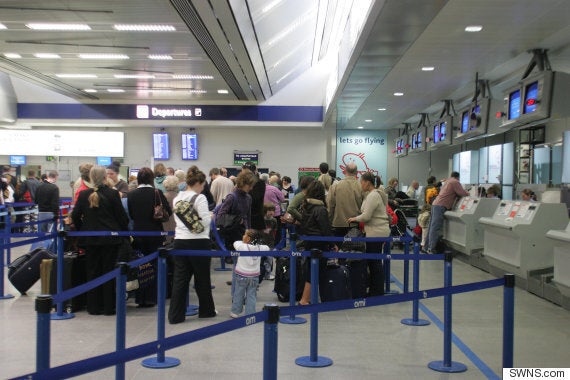 Fernandez raced to the airport to tell the airline he gave consent, but airline staff said a solicitor needed to be present.
When Stassen offered to stay at home and let her husband go with their daughter they were refused - because she hadn't provided a legal letter giving consent for her daughter to fly without her.
Stassen said: "It was going on for absolutely ages and we even tried to get a solicitor on the phone, but it was a Saturday.
"We were all in tears. The children were devastated.
"The kids were told Santa had come early on the 18th because they had been so good, so they've opened all their presents. I just can't believe it."
Dr Ali Genc, a spokesman for Turkish Airlines said the family did not have the correct documentation.
He said: "We have launched a detailed investigation to examine the matter.
"Following our investigation of that issue, we have concluded that our relevant passenger was not in receipt of the relevant authorised permission forms now required for a child travelling with only one parent.
"As such, staff were left with no other alternative but to refuse travel for the child in question.
"Upon realising that the child was travelling without the correct documentation, our relevant staff followed procedure and contacted their colleagues in Johannesburg who advised that the child in question was not permitted for entry into the country without this aforementioned documentation.
"In conclusion, we apologise for any distress that was caused to our relevant passengers, however we are not able to make exceptions to the rules relevant to our child passengers, concerning the sensitivity of the travel of such passengers of ours."
Advice On Co-Parenting With A High-Conflict Ex
Related