Christmas jumpers may have the power to bring people together over a love of kitsch knits, but one man wanted to use fashion to inspire even more of a connection between people this festive season.
Joseph Tame, a British ex-patriate living in Japan, took festive dressing to the next level in his quest to inspire bonding over the holidays.
Tame decked himself out in two fake Christmas trees, metres of tinsel and fairy lights, and accessorised with multi coloured baubles, before taking to the streets of Tokyo.
飯田橋駅の天井が低い Iidabashi station not designed with Christmas trees in mind... https://t.co/eUPE7Gbbcr pic.twitter.com/DuvoH9jtCs

— Joseph Tame (@tamegoeswild) December 19, 2015
Explaining his choice of attire Tame told CNN: "One of the main things is to break the social barriers. Tokyo is a great city but people keep to themselves. It brings people to get together.
"On the train, it's just wonderful. Everybody is just transfixed."
He added that he wanted to "spread the Christmas cheer."
Preparing the Wearable Christmas Tree for another day of Christmas wonder in Tokyo https://t.co/uwv044X9q3 pic.twitter.com/0056ffUTyD

— Joseph Tame (@tamegoeswild) December 19, 2015
This is how it looks when a Christmas Tree sits down. https://t.co/ZtlMFSiZPn pic.twitter.com/Lddq0WGgrj

— Joseph Tame (@tamegoeswild) December 22, 2015
It took Tame two months to make his outfit, (and we thought it took us a long time to get ready for a Christmas party), and this extensive prep time meant he was pipped to the post when debuting his look - by Beyoncé.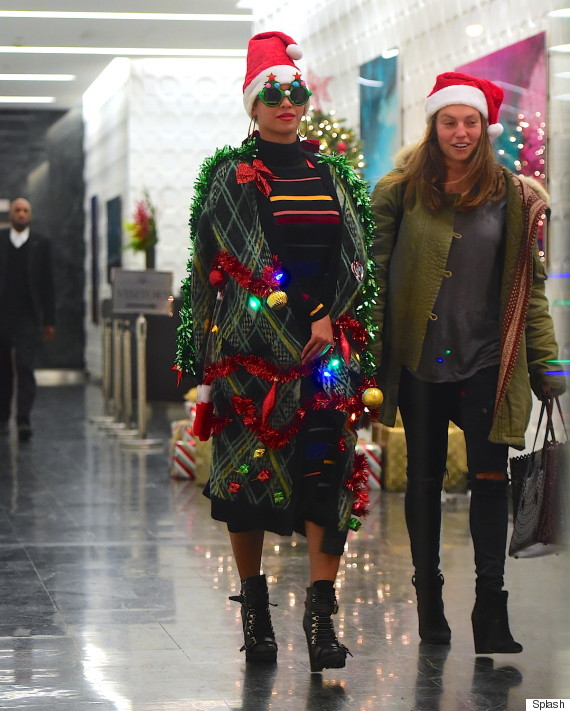 Queen Bey covered herself in tinsel, baubles and some very festive shades to attend her company's office Christmas party in NYC - and no it wasn't a fancy dress party.
Further proof that tree-chic is the look of the season.
SEE ALSO:

Saving the Planet One Christmas Jumper at a Time

Primark's Best Christmas Jumpers

19 Sexy Santa Costumes And Other Christmas Outfits That Will Make You Want To Weep