Sophie Jackson, from Knutsford near Manchester, was born with a congenital muscle disease, which means she is unable to swallow. She was rushed to hospital on 1 December after suffering a major cardiac arrest.
Her dad, Alan Jackson, requested people watch local news on 22 December for an update on his daughter.
Her dad confirmed the news and said she had died at 3.25pm on 22 December at the hospice.
He posted a message on Facebook quoting: "Someone I love and miss dearly is spending Christmas in heaven."
Sophie had been unconscious since being admitted to hospital on 1 December.
On 22 December, her dad made the difficult decision to take her to Francis House Hospice for children in Didsbury.
On 6 December, her dad appealed for Christmas cards on Facebook: "So the story is Sophie won't be home for Christmas and many months after.
"Jacko loves cards please share this post and let's see how many cards we get for her what could be her last Christmas."
Jackson said Sophie had received thousands of cards from all over the world, including Canada, Ireland and Australia.
Many have paid tribute to the young girl on Facebook.
Manchester City Football Club, who sent players to visit Sophie in hospital, wrote: "Huge respect to Phil Jones and Paddy McNair of Manchester United who supported seriously ill blues' fan, Sophie Jackson, who sadly, recently passed away...
"Football does separate us, to an extent, but ultimately, it brings us together."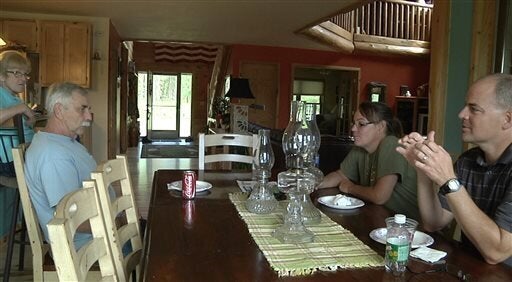 Couple Channel Grief Into Retreat For Veterans