An elderly man with Alzheimer's disease received the best Christmas present ever - a surprise visit from a cherished family member who lives half way across the world.
Charlotte O'Doherty flew in from Australia to surprise her beloved granddad John Webb, who was sat watching TV in an armchair at a family gathering. The pair hadn't seen each other for two years.
Charlotte entered the room disguised as father Christmas, so that John wouldn't recognise her.
But as she approached him she took off her Santa hat and beard to reveal her face. Her grandfather was clearly taken aback by her arrival, exclaiming: "Holy shit!"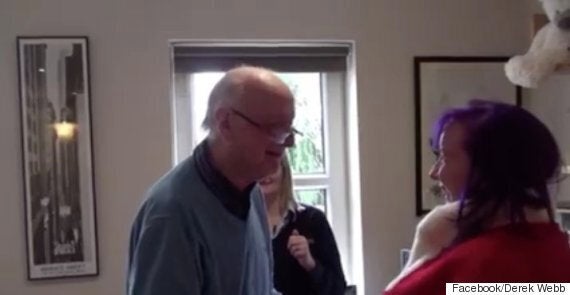 John then pulled his granddaughter close with tears in his eyes and hugged her tightly.
The emotional moment was captured on video by John's son Derek.
Alongside the video, Derek explains that Charlotte, who is his niece and John's first grandchild, was and still is father's "favourite".
"Dad might have alzhiemer's but he will never forget his first Grandchild even though he hasn't seeing her for 2 years. We flew her in as his Christmas present, I am sure he'll agree it beats a pair of sox and aftershave any day." [sic]
Derek added: "He was still crying an hour later. This is what Christmas is all about."