The Army has deployed troops to towns across Cumbria to help secure the area's flood defences as torrential rain is expected to hit northern parts of the country tonight.
Soldiers were sent to northern England on Christmas Day as the Government's emergency Cobra committee met ahead of Storm Eva, which is expected to bring winds of up to 80mph and persistent downpours.
The military's assistance comes as more than 100 flood warnings were issued across England and Wales.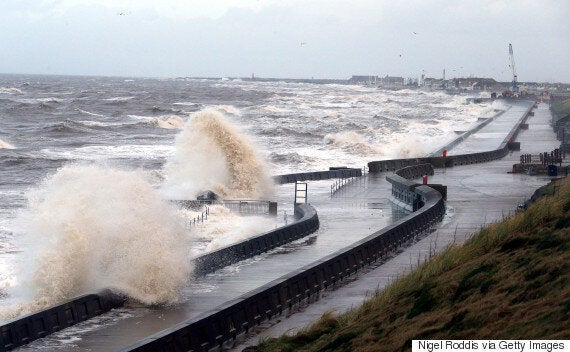 The Met Office is warning of 80mph winds
For many across the UK, Boxing Day will be marred by torrential rain and flooding.
Up to 120mm of rain is expected to fall in parts of the North West between now and Saturday, feeding already-swollen rivers in Cumbria that now threaten to burst for the fourth time this month.
Met Office forecasters have issued an amber warning of rain for Cumbria and the North West lasting into Saturday night, estimating 50mm to 80mm of rain to fall on high ground and up to 120mm over exposed areas.
By mid-afternoon on Christmas Day the Environment Agency (EA) had issued 97 flood alerts across England and Wales, plus eight warnings in the North East, North West and Wales that flooding was "imminent".
Secretary of State for the Environment, Food and Rural Affairs, Elizabeth Truss, chaired a meeting of Cobra.
In a statement following the meeting she said: "Our priority continues to be protecting lives, protecting homes and protecting businesses.
"I would like to pay tribute to the tireless work of frontline staff over the last month and the resilience of those communities affected, which I have seen first hand.
"This has been a very difficult time for all involved, especially people flooded out of their homes at Christmas for which I have enormous sympathy."
Cumbria has experienced the wettest December since records began in 1910, with several towns and villages preparing for more flood damage.
Earlier this month, the county was badly hit by Storm Desmond, which led to many people being evacuated from their homes due to the torrential flooding.
Article continues below slideshow: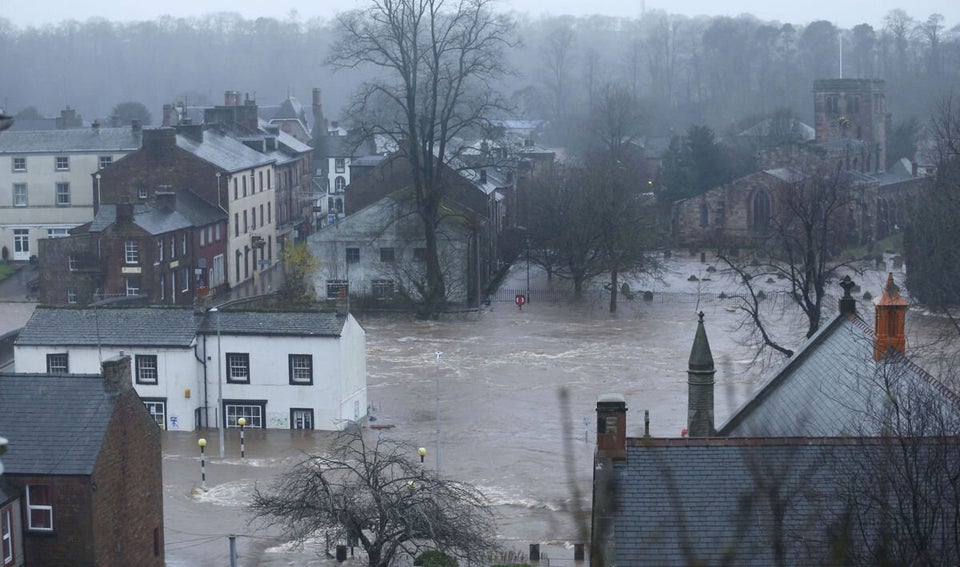 Storm Desmond
Around 85% of the country's temporary flood defences were sent to the area where a company from the 2nd Battalion, Duke of Lancaster's Regiment were deployed to install them.
Soldiers were on the ground in Warwick Bridge, Braithwaite and Appleby while 700 EA staff were put on standby.
Major Nick Higgins of the 2nd Battalion told Sky News it was "business as usual", despite many of his soldiers having to leave their families celebrating Christmas at home.
"The people of Appleby and the surrounding area we have been operating in have been massively affected by these storms and it's important that we are here to help them," he said.
Defence Secretary Michael Fallon applauded the unit, saying in a statement: "Even at Christmas our Armed Forces are keeping us safe."
A multi-agency Strategic Coordination Group has been set up to organise precautionary and preventative measures ahead of the forecast deluge.
Labour leader Jeremy Corbyn tweeted his thanks to firefighters, soldiers and EA staff, who he said were "saving lives and homes".
Liberal Democrat leader Tim Farron, whose Westmorland and Lonsdale constituency has been affected by the floods, said the EA's efforts to prevent flood damage had been "impressive".
He paid tribute to the work of armed forces' personnel, emergency services and churches in helping affected communities and highlighted how many had opened their doors to stricken families.
"The community spirit across Cumbria today is truly remarkable," he said in a statement.
Other precautions include the closure of floodgates in Carlisle, Keswick and Cockermouth and the EA has transported more than a mile of temporary flood barriers and more than 20 extra pumps to the north of England.
Teams of workers from the agency have also been out checking and maintaining flood defences, clearing blockages in watercourses and monitoring water levels.
The Met Office has issued an amber alert of rain for the county, highlighting the increased likelihood of "medium impacts" from the rain, meaning some flooding of homes, businesses and transport links is possible.
Rain will spread across Wales and northern England through the course of Christmas Day, reaching southern parts of Scotland during the early hours of Boxing Day, with prolonged spells forecast for south Cumbria.
The latest deluge will come as towns and villages across the county are still clearing up the aftermath of Storm Desmond earlier this month, which left hundreds of homes and businesses under water.
The Government said it had set aside £60 million in a relief fund, Truss said.
Around 40 roads and bridges remain damaged and closed, and hundreds of homes have been left uninhabitable.
Heavy rain could also raise the risk of localised flooding around the River Severn in Shropshire, Telford and Wrekin and Worcestershire, and the River Ouse in York, causing travel disruption.
High tides are also expected, bringing with them the potential for large waves and spray along parts of the south and west coast of England.
Sir James Bevan, chief executive of the Environment Agency, said the agency will review recent events with communities to improve its response in future.
More information and help is available at www.gov.uk/check-if-youre-at-risk-of-flooding or follow @EnvAgency and #floodaware on Twitter for the latest flood updates.
Traffic and travel information is available at www.cumbria.police.uk/traffic-link-map and a helpline has been opened on 0345 988 1188.
Related