Shoppers hit the high street in their millions on Saturday as stores reopened for the Boxing Day sales.
Some stores opened as early as 6am for those keen to grab the best deals, even after many big name retailers launched their sales online on Christmas Eve.
Shoppers keen on a bargain boasted of their early morning expeditions on Twitter, with some revealing they rose as early as 4.30am to queue in the darkness.
The term #nextsale was trending on Saturday morning as many headed to the retail giant.
There were also scenes of chaos and huge queues at the opening of a number of stores...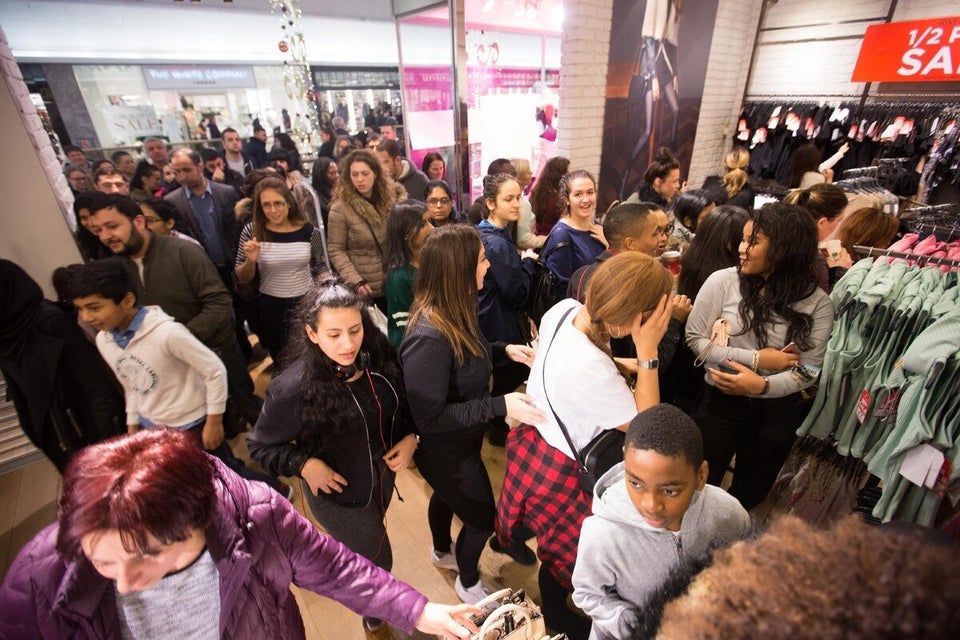 Boxing Day Sales
Nevertheless, the struggling high street is hoping for record footfall today as shoppers head out on what is forecast to be a dry and mild day.
Figures from VoucherCodes.co.uk and the Centre for Retail Research suggest 22 million shoppers are set to spend £3.74 billion in the Boxing Day sales - a 6% increase on last year.
In good news for the high street, the research predicts that 78% of total Boxing Day transactions will take place in bricks and mortar stores.
Online sales are set to be up 13% on last year.
VoucherCodes managing director Claire Davenport said: "While pre-Christmas sale dates have soared in popularity over the last couple of years, it seems they are yet to take over our more traditional savings days, with many retailers choosing to go all out on Boxing Day, running deals as early as Christmas Day right through to the start of the New Year.
"Judging from our research, it looks as though consumer appetite to snap up deals is here to stay, both on the high street and online."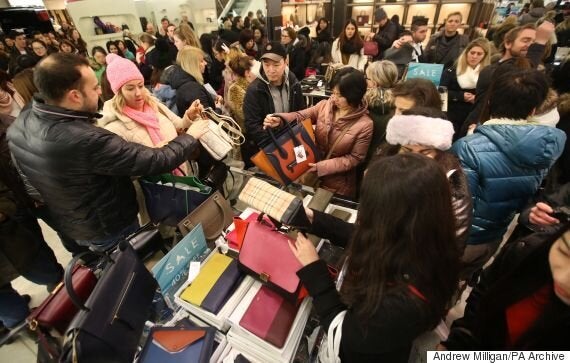 Shoppers flocked to Harvey Nichols in Edinburgh
Department stores Harrods, Selfridges, Liberty and House of Fraser are offering designer goods at a fraction of their usual price, while both Next and Marks & Spencer have launched discounts of up to 50% on sale items.
Retailers across London's West End are preparing to take over £100 million in sales over the next three days.
A number of Bond Street stores will open on Boxing Day for the first time as a result of it falling this year on a Saturday rather than a public holiday.
Fenwick department store on Bond Street will open for its first Boxing Day in its 124-year history.
Steve Richardson, UK regional director at analysts FootFall, said: "With Boxing Day falling on a Saturday, this means for most an extended Christmas break with the extra bank holiday on Monday.
"We anticipate the extra day will motivate shoppers to use this additional day off to seek out further bargains, spend Christmas vouchers and even return or exchange unwanted Christmas gifts, causing shopper traffic to rise 3% year-on-year on Boxing Day."
Usdaw general secretary John Hannett urged shoppers to respect store staff "every day, but particularly during the Boxing Day sales when bargain hunting can turn into a frenzy".
He said: "We would prefer retailers to close for at least two days at Christmas, which would allow shopworkers a proper break and time to spend with their family.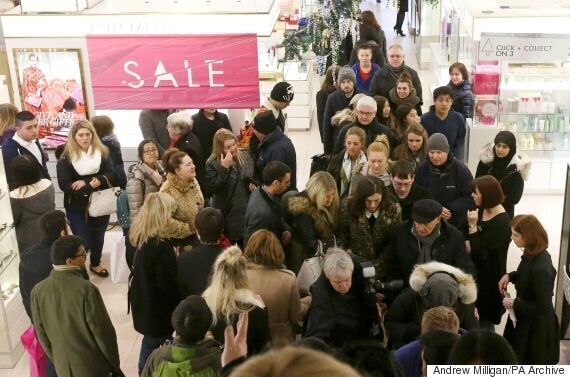 "However more and more shops are now opening for special sales promotions on Boxing Day, so we urge retailers to only staff those stores with employees who have volunteered to come in.
"Incidents of violence, threats and abuse against shopworkers are already worryingly high, so my message to shoppers is clear. Enjoy your bargain hunting, keep your cool and respect shopworkers."
Online shoppers are expected to spend £856 million today, up 22% on last year's £699 million, according to data firm Experian and online retailing trade association IMRG.
Retail ombudsman Dean Dunham said bargain hunters had never been better protected because of the new Consumer Rights Act, but he expected the most common complaint to come from consumers refused refunds or replacements because the packaging had been opened.
He said: "Be very careful about tearing open the packaging on anything. Because if the goods are not faulty, the retailer is not legally obliged to give you a refund. But check their terms and conditions as a few retailers may."
A survey by Which? found 44% of shoppers incorrectly believed they had a legal right to a refund if they changed their mind.
However, the Consumer Rights Act gives shoppers 30 days to return a faulty item and receive a full refund.
Which? executive director Richard Lloyd said: "It's naturally disappointing when something you've bought turns out to be faulty, but don't despair, you do have rights.
"If you're returning something this Christmas, whether it's not quite right or faulty, check your rights before you hit the high street and be sure to act quickly to avoid further disappointment."
Related