The heart-stopping moment rescue workers battle fierce flood waters to reach an elderly driver trapped in a stranded Land Rover has been captured on video.
Footage (above) shows emergency crews paddling towards the submerged vehicle before climbing on top and smashing a sun roof to reach the trapped man in Mytholmroyd, West Yorkshire.
He is pulled from the car and placed into a dinghy alongside, before being ferried away for medical assessment.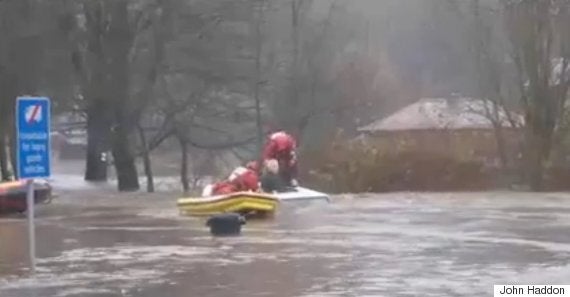 Crowds cheered the resuce in Mytholmroyd, West Yorkshire
Boxing Day saw thousands wake to discover their homes were flooded out, while businesses were heavily affected on village high streets across the three counties.
Further footage has emerged which appears to show a gas explosion brought about when a bridge gave way and plummeted downstream.
The walkway buckles under the weight of water and debris caught around its structure.
The scene in Radcliffe near Bury, Greater Manchester, was captured on mobile phones by passersby.
Meanwhile the moment the River Irwell burst its banks in Manchester city centre has also been captured on video.
Footage shows the water swelling around defences close to apartment blocks and offices before finally giving way.
Prime Minister David Cameron has promised to send more troops to "do whatever is needed" to help people in large swathes of northern England stricken by floods.
Thousands of people are being evacuated after "unprecedented" levels of rain have caused rivers to burst their banks and left homes under water in York, Leeds and Manchester.
The government has vowed to review flood defences as the Army was mobilised this morning to help emergency services carry out mass evacuations, The Press Association reported.
Popular in the Community