Belgian security forces held an orgy while hunting for the perpetrators of the Paris terror attacks, it has been alleged.
Two female police officers and eight soldiers are alleged to have performed lewd acts at a police station while the entire country was in lockdown.
A police spokesman, Johan Berckmans, told De Morgen an internal investigation has been launched.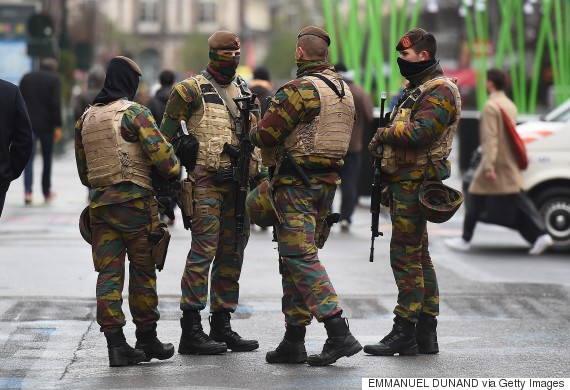 Soldiers patrolling the streets of Brussels
The incident is said to have occurred in a two-week period in November when a police station in the neighbourhood of Ganshoren, just north of Molenbeek, was used as a makeshift barracks housing 15 to 20 soldiers.
Security services were hunting for suspects in the terror attacks in Paris which killed 130 people.
Belgian jihadi, Abdelhamid Abaaoud, 27, was tracked down and killed in a shoot-out alongside his cousin, Hasna Aitboulahcen.
She was initially thought to have detonated a suicide vest but officials later claimed the explosion was caused by a bomb exploded by someone else.
During the hunt the terror threat level was raised to four, the highest level, and bars, shops, schools and the metro system were closed.