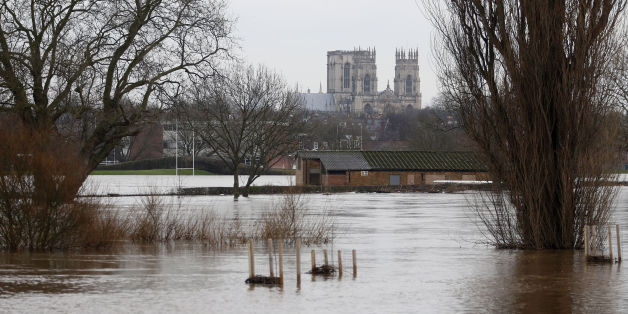 Owen Humphreys/PA Wire
The UK is facing further flooding misery as Storm Frank batters the country - but there has been a typically British response from some people.
While some areas of the country experienced gales of up to 90mph, it seems many people are particularly concerned about…their bins.
People voiced their fears for their recycling boxes…
It's the recycling bin day massacre out there. #StormFrank

— rob (@Ipodbob) December 30, 2015
Having Bin day on the same day as #StormFrank means the wheelie bins are shuffling around like epileptic Daleks shooting refuse around!

— Bearded Wanderers (@BeardyWanderers) December 30, 2015
Who do I thank for front garden like this @sthelenscouncil or storm Frank #recycling shambles pic.twitter.com/JWlA4zGbPu

— dave jenkinson-myers (@d_s_myers) December 30, 2015
That awful combo of wind and bin day. Yeah, nice one Franky boy! #StormFrank #bottlegraveyard

— C.C (@cscee) December 29, 2015
Bad day for a bin collection #StormFrank

— ZigZagPhotography (@ZigZagLeics) December 30, 2015
Recycling day & #StormFrank = rubbish everywhere 🙈

— Elly (@ellyhpopp) December 30, 2015
Just plucked the rain-sodden contents of my brown recycling bin from neighbouring bushes & trees... v wet & windy in the west #StormFrank

— Emma Jesson (@EmmaJessonTV) December 30, 2015
Looked out on our back garden, with #StormFrank in full effect. Recycling bags and boxes strewn all around... and so far, our fence intact.

— T.A. Walker (@tawalker) December 30, 2015
Many Brits have far more to worry about, however as the storm continues to wreak havoc around the country.
Thousands of homes have experienced power cuts while hundreds have been evacuated over fears of rising flood water.
On Tuesday night, soldiers were sent in to move people out of their homes near around the storm-battered bridge at Tadcaster after it started to collapse, prompting fears of flooding and a possible gas explosion, the Press Association reports.
A severe flood warning was issued for the bridge over the River Wharfe in the North Yorkshire town, with the Environment Agency (EA) warning people to leave immediately because of a "significant risk to life".
The 18th-century bridge started to collapse into the swollen river at around 5pm, with a crowd gathering as masonry fell into the swirling torrent.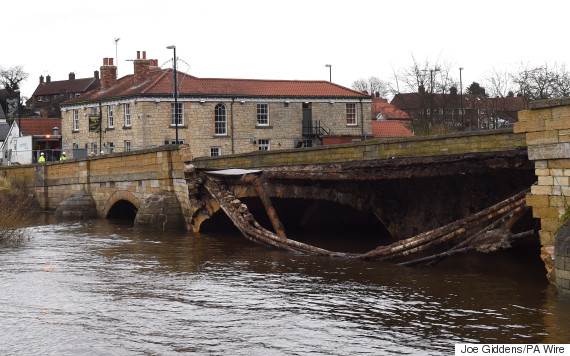 The bridge at Tadcaster collapsed during the storm
An Environment Agency spokesman said: "Significant flooding is expected in the Tadcaster area. Those in this area are advised to evacuate immediately.
"The situation is serious and there is a significant risk to life. Please follow the advice of the emergency services and officials in the area."
People watching ran as a wave headed towards the bank and a strong smell of gas came from pipes left visible in the gaping hole.
Emergency services arrived quickly before soldiers were deployed to evacuate people from homes and helped police set up a 200m cordon, saying it was "due to fears of a gas explosion".
Meanwhile, in York, police condemned thieves who looted homes submerged in dirty water. North Yorkshire Police's Acting Superintendent Mark Grange said: "It is extremely disappointing to see victims of the floods being targeted in this way.
SEE ALSO:
"It is impossible to comprehend why anyone would want to bring further suffering to those who are already in a very vulnerable situation."
The Environment Agency had earlier warned of the potential for further significant flooding, especially in Cumbria, while floods minister Rory Stewart said a potentially "very bad situation" lay ahead.
In many areas the ground is still saturated from previous downpours and river levels remain at record highs.
Waters are receding, but across the North, more than 6,700 homes have flooded in the past week.
There are currently four severe flood warnings, 46 flood warnings and 81 flood alerts in place across England and Wales.
Scotland was also bracing itself with Met Office amber "be prepared" warnings issued for today in all mainland regions outside the Highlands. There were also 36 flood warnings and 14 flood alerts in place.
A red weather warning was issued for the Isle of Man overnight, with up to 100mm of rain expected on high ground.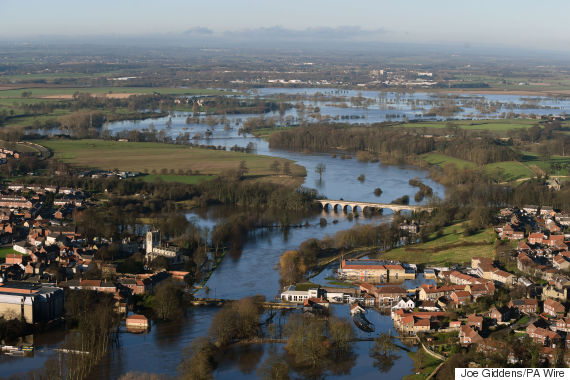 Floodwaters surround Tadcaster
Northern Ireland has also experienced a battering by the storm.
Northern Ireland Electricity Networks said late last night it had experienced faults which caused more than 2,000 homes in Enniskillen to lose power, while there were also outages in Coleraine.
And passengers on nine flights into Belfast International Airport were temporarily held on planes as high winds of up to 55 knots, about 63 mph, prevented ground crews getting access steps in place.
Two other inbound flights from Luton and Tenerife had to be diverted to Dublin, the airport said.
A Belfast International Airport spokesman added: "The high wind warning lasts until the early hours of Wednesday morning. Some airlines have cancelled flights, so we would ask passengers to please contact their airline for updates."