More than 8,500 cheerleaders, marching bands and acrobats from 20 countries performed in the London New Year's Day Parade today as the event marked its 30th anniversary.
Some performers arrived before dawn to rehearse for the show - just hours after the capital's New Year's Eve firework display, which was overlooked by 3,000 police officers.
Both events went ahead as planned, despite heightened global security following the Paris terror attacks in November.
Similar firework displays in Brussels and Paris were cancelled, and in Germany two railway stations were closed after authorities were tipped off about a "serious imminent threat" planned for an event in Munich.
A spokesman for Metropolitan Police confirmed only that "proportionate policing" had been put in place for the London parade.
The only snag in the event was when a novelty mermaid balloon caught on a building and popped, said a spokesman, and it was quickly replaced with a unicorn.
London New Year's Day Parade spokesman Dan Kirkby said: "It has been amazing and we've seen about 500,000 people come along - the best turn-out we have ever seen.
"We started a little late and had a slight balloon mishap, but it didn't leave us too deflated.
"It has been a real party for everyone here and those watching from other countries. It gives us a chance to show the whole world what London has to offer."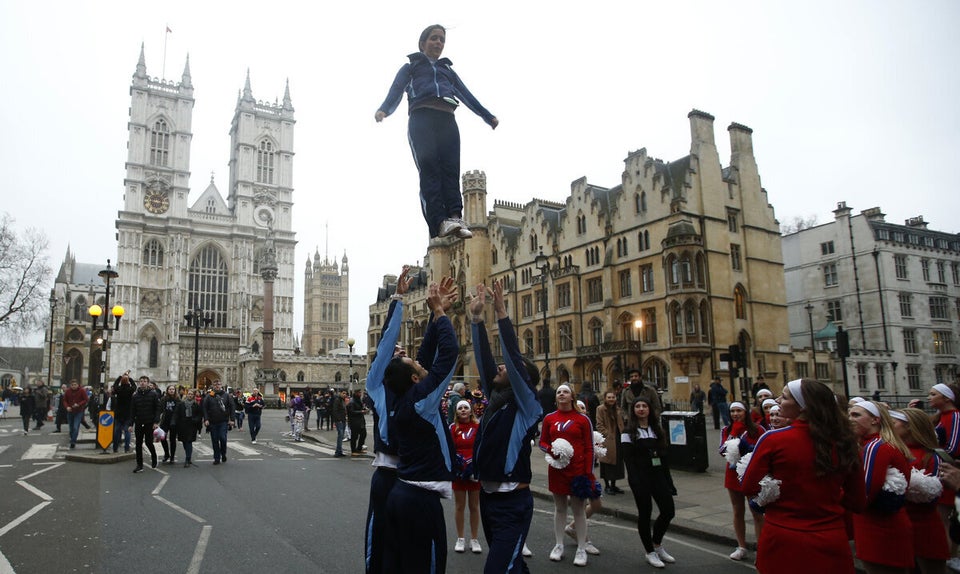 London New Year's Day Parade
The parade route snaked through Lower Regent Street, Pall Mall, Trafalgar Square and Whitehall, before finishing with a performance of the National Anthem by 400 musicians in Parliament Square.
Canadian illusionist Darcy Oake performed an escape from a series of chains and manacles with his head in a tank of water, and London Fire Brigade also joined in to show off their oldest and newest vehicles.
Elsewhere, swimmers in coastal areas, such as Gosport, Whitley Bay and Barry Island in Wales donned fancy dress and braved the winter sea to take part in traditional New Year's Day dips.
During New Year's Eve, a total of 48 arrests were made in London, including four for drug possession, three for carrying offensive or bladed weapons and five for assaults on police officers, the Press Association reports.
The London Ambulance Service took 500 emergency calls but reported fewer casualties overnight than last year, with 55 patients needing hospital treatment, compared with 66 on the same night in 2014.
Related