James O'Brien has floated an innocent suggestion that could explain why the wheels fell off Ukip leader Nigel Farage's Volvo.
The LBC host poured scorn on Farage's description of "foul play" and an "assassination attempt" after his Volvo V70 crashed and all his car's wheel nuts were found to be loose, instead suggesting that the MEP had missed a recall notice on his vehicle.
The Ukip frontman had originally claimed police said the crash, which happened in Dunkirk, France, was a malicious act, telling the Mail on Sunday of his "frightening experience".
"I suddenly realised I was losing steering but there was no hard shoulder to pull on to. I slowed down, put the hazards on and then one of the wheels came off,' he said.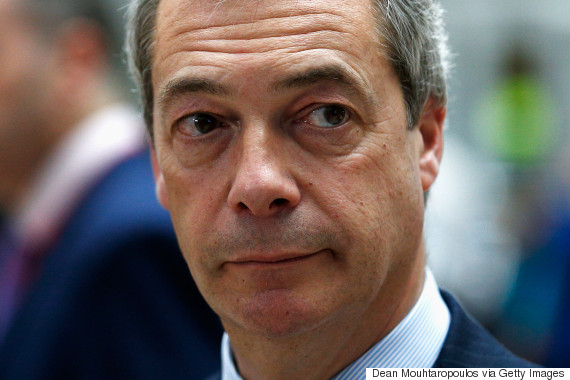 An unimpressed Nigel Farage
"The French police looked at it and said that sometimes nuts on one wheel can come a bit loose - but not on all four.
"The French police and mechanics looked at it but I have made no formal complaint. The mechanics were absolutely certain of [foul play] but I have decided to take no further action."
But O'Brien investigated the claims and discovered a recall notice issued by the car manufacturer of the vehicle Farage was driving.
It detailed that several models, including the V70, may have been constructed improperly, leading to the possibility of wheels becoming loose and detaching.
READ MORE:
"It has been identified that the standard wheel securing bolts may not have undergone the correct hardening process," the Driving and Vehicle Standards Agency wrote in their recall notice.
"This will result in corrosion, a noise and/or vibration. If this condition is not rectified, there is a possibility that the wheel may become loose and detach."
The DVSA had advised that all affected vehicles be checked and have their wheel bolts replaced.
Commenting on Monday, O'Brien, who has previously sparred heatedly with Farage, wrote in a message to his 71,000 Twitter followers: "Wheel fallen off your Volvo V70? Do you google 'Volvo V70 wheel nuts recall' or allege an assassination attempt?"
Wheel fallen off your Volvo V70? Do you google 'Volvo V70 wheel nuts recall' or allege an assassination attempt? https://t.co/9Xj6ko1RXN

— James O'Brien (@mrjamesob) January 4, 2016
Leading one social media user to make a jibe at the blame pinned on Farage's crash.
@mrjamesob Handle fell off my teacup last week. Bloody Mossad.

— Sin Vega (@sinisteragent) January 4, 2016
Others piled in to point out the recall notice and suggest Farage's alleged assassination attempt might not have been all that it seemed.
Not that Farage is a fantasist, but here's the recall notice for his Volvo V70: 'wheel may become loose and detach'. pic.twitter.com/5OXEjj92UX

— Nicholas Pegg (@NicholasPegg) January 3, 2016
Farage assassination plot turns out to be him being ignorant of a Volvo safety recall. Cunning Swedes, knowing he'd never read it.

— Darren Leathley (@DarrenLeathley) January 3, 2016
RT .@LiberalIsland:

Hey #ukip did #farage get his Volvo checked after this recall notice? pic.twitter.com/luf2mWkSGB

— Les Bonner (@lesbonner) January 3, 2016
It is not known whether Farage's car had been subjected to checks before the incident occurred, attributed by police and some newspapers to "foul play".