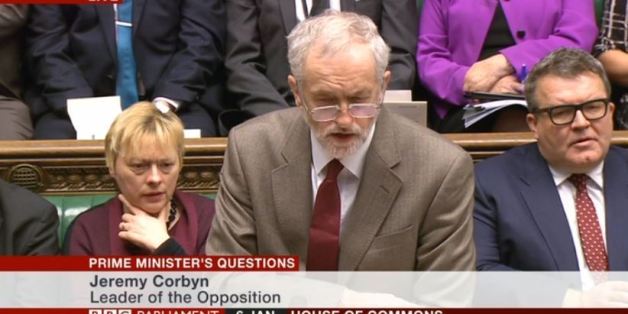 BBC Parliament
Oh my. The first PMQs of 2016, and it's a very awkward one. The Labour Party was reeling from a three day ordeal in which Jeremy Corbyn relentlessly slashed his shadow cabinet and was faced with a wave of resignations, one of which was just minutes before PMQs started and it happened live on the Daily Politics.
So here's everything that happened in PMQs today, without all the shouting:
That look when you're staring electoral oblivion in the face #PMQs pic.twitter.com/ssz4fEvPbN

— Aidan Kerr (@AidanKerrPol) January 6, 2016
Things were very, very tense throughout the Labour benches...
Labour benches silent as Corbyn rises. #PMQs

— George Eaton (@georgeeaton) January 6, 2016
Glum faces on Labour's front bench pic.twitter.com/dNnKUzp2hs

— Mike Smithson (@MSmithsonPB) January 6, 2016
The utter silence from #Labour MPs is a devastating indictment of #JeremyCorbyn. #PMQs

— Dean M-Thomson (@DeanMThomson) January 6, 2016
Well someone looks like he's in a good mood. pic.twitter.com/u4tFg5Rqul

— Marie Le Conte (@youngvulgarian) January 6, 2016
It took the PM only eight minutes to make fun of Corbyn for his reshuffle saga:
PM makes jibe at @jeremycorbyn - says it takes him 3 days to carry out a re-shuffle - says he couldn't run anything #PMQs

— Louise Stewart (@BBCLouise) January 6, 2016
And he spent the rest of the first chunk dodging questions about the floods:
"We fixed the roof while the sun was shining"

**Whole country floods**

"It rained too much"

January 6, 2016
Which the Tories laughed at...
If you've been flooded and you'd turned on #PMQs now I imagine you'd be furious at behaviour on Tory benches.

— Cat Smith (@CatSmithMP) January 6, 2016
And then the PM led with some truly awful Shakespeare puns:
Cameron ripping in to Labour after being asked if he's looking forward to Shakespeare's 400th anniversary #PMQs pic.twitter.com/4y74EqMt0j

— Ben Foreman (@benforeman_) January 6, 2016
Groan. The PM is doing unfunny jokes about Shakespeare #pmqs

— Kate McCann (@KateEMcCann) January 6, 2016
Ugh, #PMQs at its worst - Cameron uses planted Q to make Shakespeare #reshuffle puns: "love's labours lost" etc pic.twitter.com/YCIksqHSz2

— #SunNation (@SunNation) January 6, 2016
It's like when people laugh in the theatre and you didn't know there was a joke #pmqs

— Graeme Demianyk (@GraemeDemianyk) January 6, 2016
The pedants were out in force after Cameron let slip a grammatical error:
Much less hours!? Arghhhh #pmqs

— Stephanie Lis (@Stephanie_Lis) January 6, 2016
While others were criticising his appearance...
Is it me or has Cameron's bald patch got bigger over Christmas? #bbcdp #PMQs 😂 pic.twitter.com/tNpulnT3xP

— ScoopeX (@scoopex) January 6, 2016
David Cameron needs to wash his hair you could cook chips in that grease in his hair! #PMQs

— Dominic Leslie (@DomDom1919) January 6, 2016
Ooh did anyone see the back of Cameron's head then?! Ooh he's going frightfully bald isn't he?! #PMQs

— Dylan H Morris. (@dylanhm) January 6, 2016
And some strange fashion choices on the backbenches:
Ben Howlett, Bath, wearing a pink tank top under a blue suit, asks about new houses in his constituency. #pmqs #toryfashion

— The Sunday People (@thesundaypeople) January 6, 2016
Do @ben4bath and @MattHancockMP get their jumpers from the same place? #pmqs pic.twitter.com/RWaLPQu9ZT

— Asa Bennett (@asabenn) January 6, 2016
And Kevan Jones resigned mid-PMQs, which made things even more awkward:
Steve Rotheram MP and PPS to Jeremy Corbyn just past his phone to Corbyn during #PMQs - with what message I wonder?

— Darren McCaffrey (@DMcCaffreySKY) January 6, 2016
Oh dear.
SEE ALSO: