Jewish shoppers were pelted with gas canisters and told "Hitler is on the way to you" during an attack in London on Wednesday.
Two men and a woman were targeted as they walked through Tottenham Hale Retail Park at about 7.45pm last night.
Small gas refill canisters were thrown at the victims by three white men in a white pick up truck, who shouted: "Hitler is on the way to you, Heil Hitler, Heil Hitler, Heil Hitler."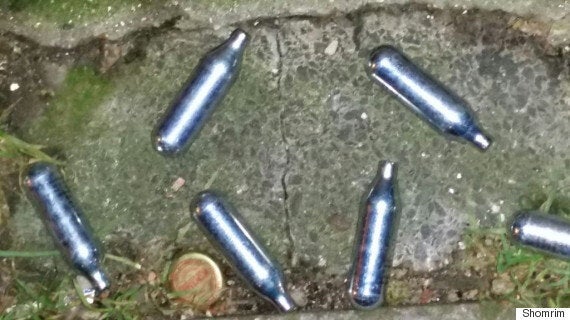 Gas refill canisters were thrown at the victims
The Metropolitan Police are investigating the incident. It is not believed that anyone was injured during the confrontation.
Jonathan Sacerdoti, director of communications at Campaign Against Anti-Semitism, said: "Obviously there are negative connotations conjured up related to gas especially when the Holocaust is evoked as six million Jews were killed during the Holocaust, many being systematically gassed by the Nazis.
"But we cannot say that this was a deliberate connection or link. I have no way to know why they chose these projectiles. It is merely speculation. The attackers did refer to the Holocaust."
Shomrim, the Jewish neighbourhood watch patrol, was called by the victims and is providing victim support.
Shomrim volunteer, Michael Blayer, said: "This behaviour is appalling, the victims were innocent shoppers at the Tottenham Hale Retail Park, and they were targeted because they were visibly Jewish.
"The verbal abuse was disgusting, and small objects were thrown towards the victims, making them fear for their immediate safety. Shomrim are supporting the victims."
Mr Sacerdoti added: "This disturbing incident is a reminder of the abuse that many Jewish people experience all too often.
"It is vital that victims report all anti-Semitic attacks or incidents whenever they happen, and that the police take every report seriously, investigating and charging those responsible wherever possible."
Anyone with information is asked to call the Metropolitan Police on 101 quoting reference CAD7955-06/01/16.
Related