The propaganda broadcasts by South Korea directed over the border at their northern neighbours is driving the peninsula to the "brink of war," according to a top North Korean official. Reported by Reuters, the grave warning was made at a rally in Pyongyang on Friday, marking the first response by the regime to the cross-border bombardment renewed in response to the North's fourth nuclear test on Wednesday.
The North Korean regime claimed the blast was a hydrogen bomb, the first in the country's history, however experts in Europe and the US, as well as the White House, have cast doubt on that claim. Regardless, the test was enough for Seoul to retaliate with the deafening propaganda, which were last used in August last year. That barrage so upset the North that it led to an exchange of artillery fire across the border.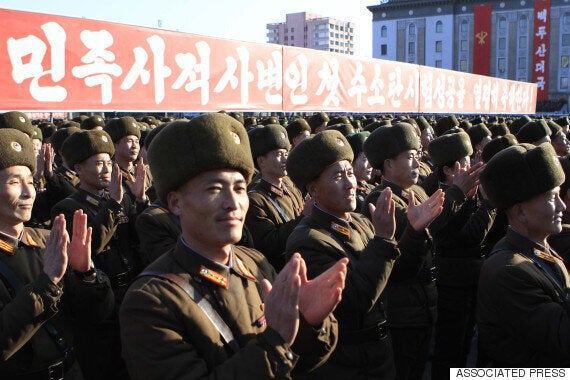 North Korean military personnel clap hands in a rally, after North Korea said Wednesday it had conducted a hydrogen bomb test, at the Kim Il Sung Square in Pyongyang, Friday, Jan. 8, 2016
The propaganda, which is broadcast from loudspeakers in 11 positions in the south, throws criticism at the sensitive Kim regime, which the North regards as insulting.
Addressing a crowd on Friday, Kim Ki Nam, head of the ruling Workers' Party propaganda department, said: "Jealous of the successful test of our first H-bomb, the US and its followers are driving the situation to the brink of war, by saying they have resumed psychological broadcasts and brought in strategic bombers."
Images of the rally, held in Pyongyang, were broadcast on North Korean state TV, with the crowd clapping and holding placards in tribute to the leader Kim Jong-un. One banner read: "We passionately celebrate the historic national event that is the success of the first hydrogen bomb test."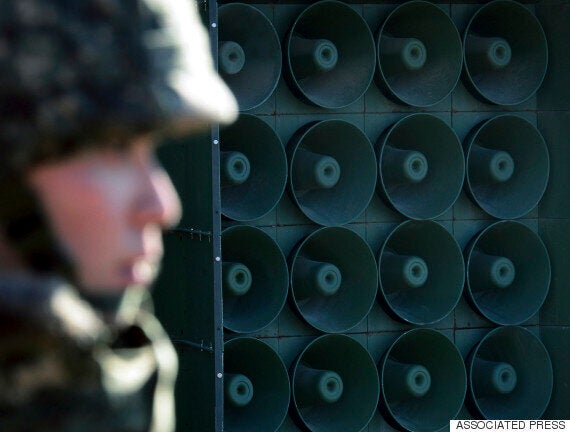 A South Korean soldier stands near the loudspeakers near the border area between South Korea and North Korea in Yeoncheon, South Korea, Friday, Jan. 8, 2016
Rising tensions following the nuclear test have led to discussions between Seoul and Washington about deploying US bombers in South Korea, as well as a nuclear-powered submarine off the coast of the peninsula.
Earlier on Friday, North Korea released footage of what the regime called a missile test, the film showing a submarine launch with Kim watching on from the deck of a nearby vessel. However, experts in South Korea dismissed the video as a montage of previous tests.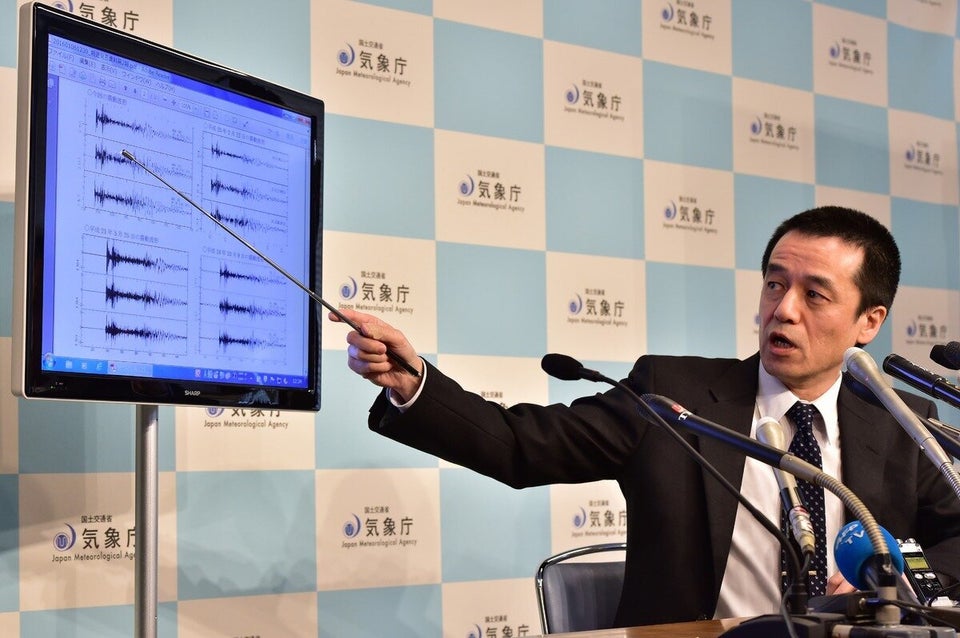 North Korea 'Hydrogen Bomb' Test
Popular in the Community