'Celebrity Big Brother' fans have reacted angrily to a clip which aired on Monday night, showing housemate Angie Bowie reacting to the news of her ex-husband, David Bowie's death.
READ MORE:
While the world learned of David's death - which came after a secret 18-month battle with cancer - on Monday, Angie was among the last to learn that he had died, as she's currently in the 'CBB' house, with no contact from the outside world.
In a short teaser clip for Tuesday night's episode, Angie was shown in the Diary Room reacting tearfully to the shocking news.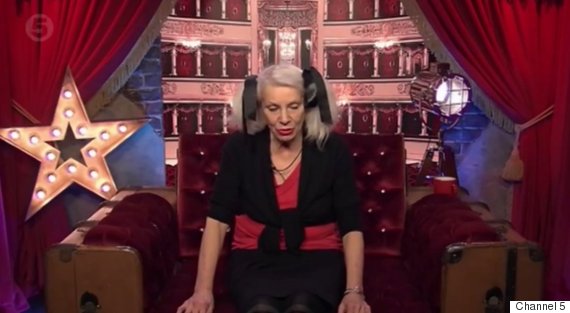 Angie Bowie
However, angry viewers have now hit out at Channel 5 on Twitter for airing the clip, which came after they had initially said that she would be told the news "off-camera", suggesting it was distasteful to use Angie's grief as a teaser.
Disgusting how @bbuk are previewing Angie Bowie's grief in tomorrow's show. Surely breaches @Ofcom code 8.16 #Noethics#DavidBowieRIP

— Liam McCallion (@LiamMcCallion23) January 11, 2016
Bad form, Big Brother, to use a person mourning as a cliffhanger for tomorrow's episode. #cbb#bbbots#bbuk@bbuk

— Liam (@TribalSpaceman) January 11, 2016
Honestly disgusted that #CBB showed Angie Bowie receiving the news about David😔 #RIPDavidBowie Still rooting for #CBBScottyT ❤️

— Leonie Hughes (@leonz_o) January 11, 2016
Some things are far too personal to be shown on reality tv. Felt really uncomfortable being shown Angie Bowie told about David's death.

— Hollie Anderson (@holliedays) January 11, 2016
#CBB You couldn't just give her a few days to gather her thoughts. You had to show her reaction. We didn't need to see that. #angiebowie

— Sam McKnight (@sammcknight1) January 11, 2016
Really bad taste to show Angie Bowie's diary room reaction to David's death. Yes, she's staying, but still a horrible moment. #CBB

— Emma Kelly (@TooManyEmmas) January 11, 2016
So much for Big Brother saying they would tell Angie Bowie the news off cam. Showing footage of her reaction in advert so vile @channel5_tv

— Jane E Davies (@UpstartThunder) January 11, 2016
@Channel5BBUK bad taste big brother. We do not need to see Angie Bowie's grief tomorrow night. Trailing it. Disgusting.

— phoebe sinclair (@phoebesinclair) January 11, 2016
Have C5 genuinely shown footage of Angie Bowie being told? That's gutter stuff.

— Tim (@timseesthelight) January 11, 2016
I'm just so disappointed that Angie Bowie was told while being recorded. Where is the respect?

— Nat. (@NatalieDcrmer) January 11, 2016
In the short clip, Angie is shown telling producers: "I haven't seen him in so many years, I can't make a big drama out of it… but it just feels like an era has ended with his passing."
Angie was later shown breaking down in front of her fellow housemates, after sharing the news with them.
Referencing his iconic Ziggy Stardust persona, she lamented to David Gest and John Partridge: "The stardust has gone."
'Big Brother' has responded to the backlash pretty quickly, insisting that the clip doesn't actually show Angie learning about David's death, as she was actually told away from the cameras, by her agent.
For those asking – Angie was told the tragic news about David Bowie off camera by her agent, then spoke to BB about it in the Diary Room.

— Big Brother UK (@bbuk) January 11, 2016
It was previously confirmed on Monday afternoon that Angie had made the decision to remain in the 'CBB' house, after learning of her ex-husband's death.
David died on Sunday at the age of 69, as confirmed by his son, Duncan Jones, from whom Angie is estranged.
The 'Rebel Rebel' singer was married to Angie for 10 years, eventually splitting up in 1980.
See Angie's reaction in full in Tuesday night's 'Celebrity Big Brother', airing at 9pm on Channel 5, which will also deal with the departure of Jonathan Cheban, who has decided to pull out of the show.
His exit came after complaining for the past few days of feeling claustrophobic.
LIKE US ON FACEBOOK | FOLLOW US ON TWITTER