The Anglican Church splitting over the issue of gay marriage "would not be a disaster" but it would be a "failure", the Archbishop of Canterbury said on Monday.
Justin Welby's comments come as a meeting between senior bishops from across the Anglican community gets underway in Canterbury.
The week-long meeting will try to resolve a long-running dispute between sections of the Church over issues such as homosexuality and women bishops.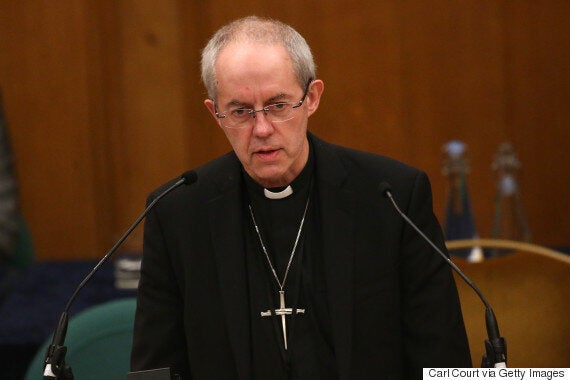 Justin Welby told Today he hoped for a 'reconciliation' but a split 'would not be a disaster'
There are fears there could be a permanent schism in the Anglican church, as leader of conservative African churches have threaten to walkout over gay rights.
Speaking to BBC Radio 4's Today programme, Welby said he was hoping for a "reconciliation", but that would mean "finding ways to disagree well".
The Archbishop of Canterbury said: "A schism would not be a disaster... God is bigger than our failures.
"It would not be good if the church is unable to set an example to the rest of the world of showing how we can love each other and disagree profoundly."
But he added there was "nothing" he could do "if people decide they want to leave the room".
Welby said: "The church is a family and you remain a family even if you go your separate ways. That's always been the case it always will be."
About 80 million people are a part of the Anglican Communion, which spans 160 countries. Welby is the Church's most senior bishop.
More than 100 senior Anglicans have signed an open letter to the Archbishops of Canterbury and York, urging the Church of England to apologise for its treatment of gay and lesbian Christians as "second class citizens" over issues of sexuality.
The letter was coordinated by Jayne Ozanne, who said the church was "increasingly perceived as irredeemably 'anti-gay' by an increasing number of people who simply don't understand why the church continues to discriminate, nor why it is allowed to do so".
Conservative African church leaders have insisted that the topic "to restore godly order" should be discussed as a priority at the meeting.