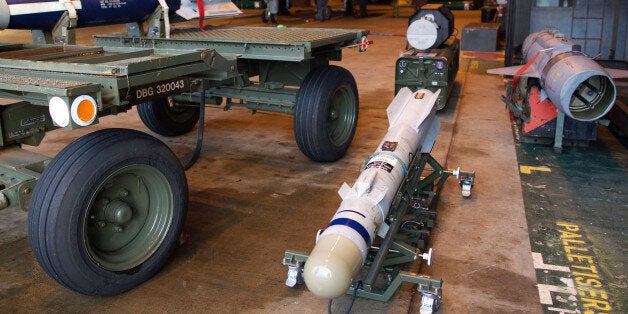 The RAF has carried out just 16 "attacks" on targets in Syria - leading to 11 successful "strikes" - since MPs voted to endorse airstrikes against Isil extremists in December, it was confirmed today.
The Ministry of Defence also revealed the much-vaunted Brimstone missiles were used for the first time against ISIL in Syria - but among the targets for the £100,000 each bombs were mobile cranes used to repair damage to an oil field and a supply truck.
Using Brimstone is seen as a watershed since the accuracy of the laser-guided weapon was at the heart of the Government's case to convince Parliament to back bombing raids.
But the update will underline concern among those who argue there is a lack of terrorist targets.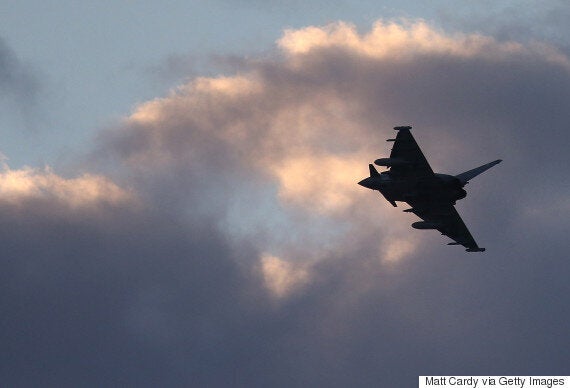 On Sunday, four Brimstone missiles were deployed - one towards enemy positions near ISIL HQ in Raqqa and three in an attack on the Omar oilfield.
"Near Raqqa, a pair of Tornados bombed a pair of Daesh-held buildings, one of which was a confirmed command and control centre, and used a Brimstone missile to destroy a supply truck. A second pair of GR4s dropped four Paveway IVs on a tunnel complex, again near Raqqa, whilst a Reaper engaged a terrorist position with a Hellfire missile.

"During the evening, a further Tornado flight and a Reaper used a combination of Brimstone and Hellfire missiles to attack a number of mobile cranes brought in by Daesh to attempt to repair the severe damage inflicted by previous RAF and coalition air strikes on the Omar oil field."
David Cameron has hailed the accuracy of the Brimstone missiles for causing "the lowest level of civilian casualties" - heralding the plane's high-definition camera that can "hover over the Isle of Wight and be able to read the hands on Big Ben".
The MoD also publishes videos on YouTube of successful strikes. Below is footage of a Typhoon jet destroying a "terrorist vehicle" with a Paveway bomb on December 28.
The Ministry of Defence has confirmed to The Huffington Post UK:
16 "attacks" have been carried out by the RAF in Syria since the Commons vote on December 2.
Of those, 11 have resulted in "strikes" - namely a target has been destroyed. The figure only includes "strikes" up to January 7, so does not include the use of Brimstone this weekend.
In Iraq, the RAF has carried out 492 "strikes" since operations began in late 2014. The MoD could not confirm how many "attacks" have taken place.
The MoD could not confirm how many terrorist targets have been killed during the bombing raids - and it is "not aware" of any civilian casualties in either Syria or Iraq as a result of UK bombing raids.
The RAF is using three aircraft to drop missiles: older Tornado jets which can carry Brimstone missiles and Paveway bombs; newer Typhoons that drop Paveway bombs but are not - as yet - capable of firing Brimstone missiles; and unmanned Reaper "drones" equipped with Hellfire missiles and bombs.
Brimstone missiles are estimated to cost £100,000 each, while heavier Paveway IV bombs are thought to cost £30,000 each. Hellfire missiles have a £71,300 price-tag each.
The details emerged as Labour leader Jeremy Corbyn, who opposed UK military action in Syria, was asked repeatedly on Radio 4's Today programme whether he would sign off a drone strike to kill the new "Jihadi John". While dismissing the question as a hypothetical, Mr Corbyn suggested there would be extreme circumstances where "action could be taken".
He said: "I would want to know what the evidence is, what difference it would make by doing that, what the chances were of capturing somebody - I suspect probably very, very low in those circumstances - so action could be taken."
Defence Secretary Michael Fallon said: "Britain is playing a key role in the fight against Daesh whether helping Iraqi ground forces retake Ramadi or by striking targets near its Raqqa heartland
"Our Reaper drones have now flown 1,000 missions against Daesh and we will maintain this tempo with RAF pilots flying day and night over Iraq and Syria. The Royal Navy continues to support our allies as HMS St Albans will shortly join the Charles de Gaulle aircraft carrier group as we unite to destroy Daesh.
"To ensure we are doing all we can in this fight I will be meeting key coalition defence ministers next week – including US, France and Australia - to review progress and to plan the next stage of the strategy."