The emotional moment a sperm donor met four of his biological children for the first time and introduced them to their half-siblings was captured on film.
Todd Whitehurst, 49, who donated sperm in 1998, was contacted by 20-year-old Sarah Malley through an online database called the Donor Sibling Registry.
The pair then arranged a family gathering with seven other children who Whitehurst was biologically related to.
Whitehurst had previously met four of them and was meeting four for the first time.
"This is so awesome," Malley said and she hugged Whitehurst as soon as he got out of the car.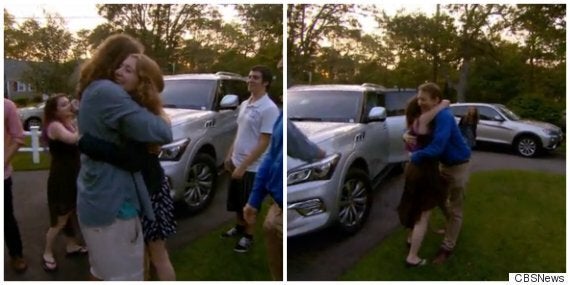 Malley hugging her dad and a half sibling she was meeting for the first time
The heartwarming moment was caught on video as part of a TV programme Family Ties.
Whitehurst, who now has two children of his own, said he was a university graduate in 1998 when he noticed something in the paper about young men being needed for sperm donation.
"Why wouldn't you want to help those people out?"
At the time, the dad had to sign an agreement to remain anonymous and the families were only given basic background information about the donor.
However it was his unique donor ID number that enabled Malley to eventually find her dad through the online database: Donor Sibling Registry.
The site was set up by Wendy Kramer, the mother of a donor son, who soon realised how much her son wanted to know who his biological dad was.
The networking site allows children to match the donor IDs to their biological dads.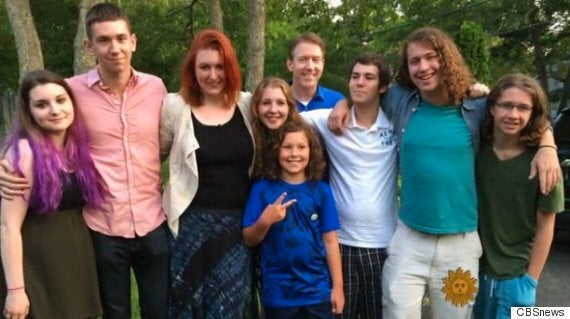 Whitehurst with eight of his children - four of whom he'd never met
During the meeting Malley - who is a twin - was speechless as she met her father, and six other half siblings.
"I don't know what to say. I don't know what to do," she said in the video.
"I was worried it would be just like a 'hello, it's nice to meet you' handshake. We hugged. And that was like a whole big thing."
Another one of Whitehurst's donor children, Carey Phelps, said she had wanted to know her biological father since she was a teenager.
She found him through the site when she was 14 years old after spending two weeks searching for him online with the little information she had.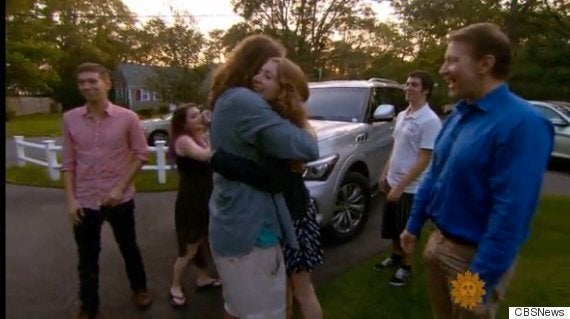 "That moment when I saw his face for the first time, it's just, it's incredible," Phelps told CBS.
During the interview, Whitehurst said he donated to the same clinic about 400 times and he has 22 donor children that he knows of.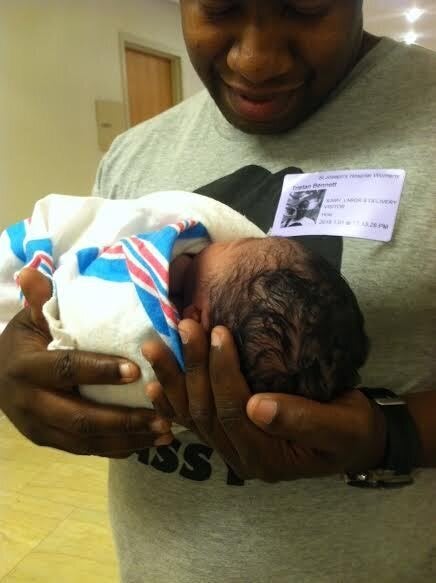 First-Time Dads Make Our Hearts Melt