Ricky Gervais has called out the Oscars for only including white actors in the four acting categories for this year's awards.
The comedian, who has served as the host of the Golden Globes in recent years, hit out at organisers of the awards with a scathing remark on Twitter.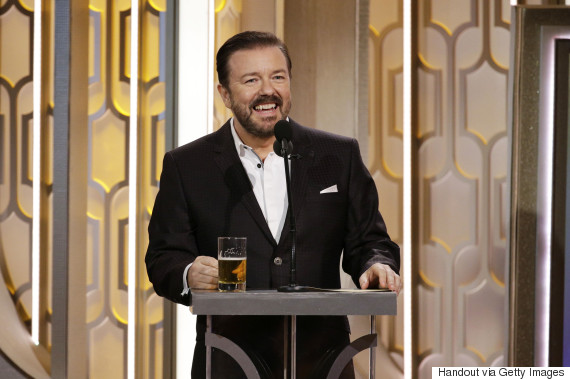 Ricky Gervais
He posted: "Why did the Oscars announce all the white nominees first?"
Why did the Oscars announce all the white nominees first?

— Ricky Gervais (@rickygervais) January 14, 2016
The Academy did not named a single actor of any other race in the Best Lead Actor, Best Lead Actress, Best Supporting Actor and Best Supporting Actress categories, when the nominations were announced on Thursday (15 January), marking the second year in a row that this was the case.
And judging by the responses to Ricky's tweet, the lack of diversity hadn't gone unnoticed by the public either.
@rickygervais White Privilege?

— John Amenta (@jamenta) January 14, 2016
@rickygervais how they've overlooked mr Sidney Poitier is beyond me

— Luke Redman (@lukeredman) January 14, 2016
@rickygervais How dare they put talent before race.

— Mike (@JustSayn2000) January 14, 2016
@rickygervais that is a very good question!

— Sara Garber (@saragarbermusic) January 14, 2016
@rickygervais Are you surprised, when the majority of those voting are white men in their 60s.

— Suzanne Robertson (@suzieq2323) January 14, 2016
This year will see Bryan Cranston, Matt Damon, Leonardo DiCaprio, Michael Fassbender and Eddie Redmayne battling it out for Best Actor, while Cate Blanchett, Brie Larson, Jennifer Lawrence, Charlotte Rampling and Saoirse Ronan will go up against each other for Best Actress.
The Best Supporting Actor category features Christian Bale, Tom Hardy, Mark Ruffalo, Mark Rylance and Sylvester Stallone, while the Best Supporting Actress nominations are made up of Jennifer Jason Leigh, Rooney Mara, Rachel McAdams, Alicia Vikander and Kate Winslet.
This year's Oscars ceremony will take place on 28 February 2016 at the Dolby Theatre in Hollywood.
See the full list of nominations here.
LIKE US ON FACEBOOK | FOLLOW US ON TWITTER