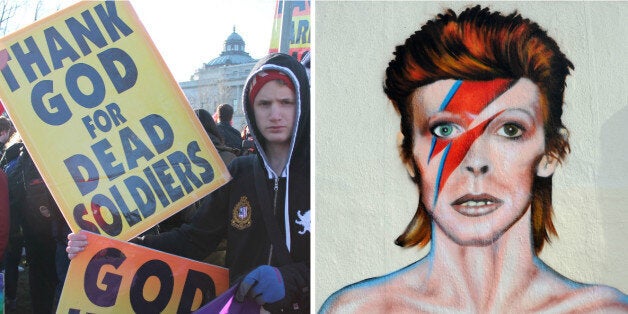 Westboro Baptist Church: 'The most hated family in America' - famed and vilified for picketing at the funerals of innocent people and celebrating their passing.
They celebrate at services held for men beaten to death for being gay; military servicemen and women killed in Iraq; and now they've turned their focus to David Bowie.
That's right - one of music's most legendary figures is having his memorial picketed by WBC.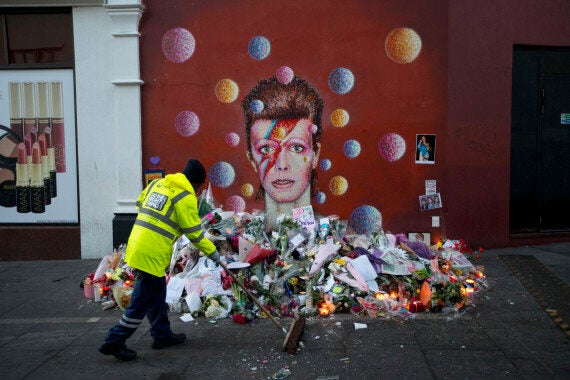 Tributes paid to Bowie in Brixton, South London
"Perfect picket place", they said in response to news the 69-year-old, who died of cancer, would be remembered at a memorial service in New York's Carnegie Hall.
But in spectacular trolling fashion, a group of activists known as 'Planting Peace' who occupy the 'Equality House' compound just across the street from the WBC have come up with a campaign to raise money for children with cancer.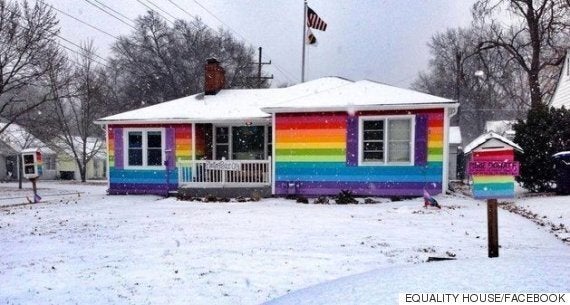 The anti-WBC headquaters in Topeka, Kansas
The group's president said helping save youngsters lives suffering from the same disease that took Bowie on Monday this week was the perfect way to honour him and hit back at Westboro.
"He was a role model when it came to transcending any social norms or boundaries with his individuality and personal expression," they wrote.
"He taught us all that being different was something to embrace and celebrate. This is a small gesture to honor his legacy and the difference he made to so many."
Decrying messages religious chiefs sent to Bowie's widow on Twitter - telling her not to follow the man she was married to for 23 years into hell - they said:
"When the WBC began tweeting hateful messages to Mr Bowie's family and targeting various memorials for picketing, we felt like launching a fundraiser and providing a positive outlet for support that will help children and families battling cancer would be the perfect way to honour Mr Bowie and show that acts of love and compassion speak louder than messages of hate."
The campaign has raised over $27,000 (£19,000) so far, with heartwarming tributes being paid by donors including one that reads: "In memory of my brother, Trey."
"What a beautiful way to honor this legend in the face of such disrespectful cruelty. Thank you," said another $20 donor.