Police have said a Channel 4 TV documentary to air on Tuesday examining whether a serial killer is responsible for dozens of deaths near a Manchester canal is "upsetting" for the families involved, noting there is "absolutely no evidence" to support the myth.
More than 80 bodies - almost all of them men - have been pulled from canals and waterways in Manchester between 2008-2014. The cause of death in the majority of cases has been established, but 28 deaths are still classified as "unexplained".
Following a Freedom of Information request by a reporter concerning the deaths, the statistics were provided to professor Craig Jackson, head of psychology at Birmingham City University, who police said he "was led to believe the deaths had all occurred in the city centre, rather than the whole (greater Manchester) county".
A Channel 4 documentary is investigating whether deaths in Manchester waterways are the work of a serial killer
Jackson suggested the deaths had "all the hallmarks of foul play", which led to media reports in January 2015 that a "serial killer was at large". The killer was later dubbed "the pusher".
Jackson said: "What is important, is to recognise the very real concerns of dozens of individuals who have this week contacted me to give details about some of the deaths involved, including relatives of some of the deceased, and the genuinely alarming number of bodies found.
"It is unlikely that such a high number of cases are the result of just accidents or suicides as canals are not popular suicide spots, especially for men."
Jackson later withdrew his remarks in a statement released by Greater Manchester Police after being called for a meeting with Detective Chief Superintendent Russ Jackson. However, a handful of cases have now been re-examined by Channel 4.
In its documentary, titled 'Manchester's Serial Killer?', former senior detective Tony Blockley examines evidence purporting to support the allegation that the same person is responsible for a catalogue of killings. His probe focuses on the deaths of three men: Souvik Pal, 18, and 21-year-olds David Plunkett and Nathan Tomlinson.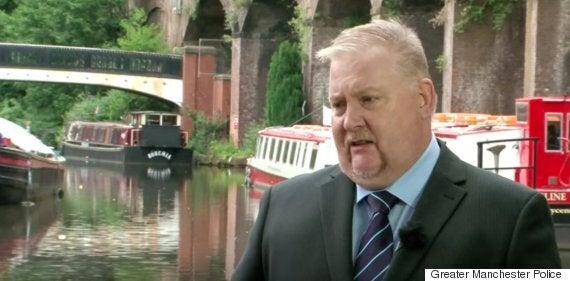 Detective Superintendent Peter Marsh said there was "absolutely no evidence" to support the claims a serial killer was involved in the deaths
In a video statement on Tuesday Greater Manchester Police sought to dismiss the persistent serial killer theory. Police said all of the deaths had been "fully investigated" to determine if "anything criminal has happened".
Detective superintendent Peter Marsh said in some cases it had been determined that people had been pushed into the canal and robbed, and as a result the perpetrators had been arrested and prosecuted. However, he said there was "no evidence to indicate a killer or canal pusher is responsible".
Jackson added that the re-examination of the serial killer theory was "upsetting" for those who had lost family members to accidents involving the canal or waterways.
He said: "They've gone through the inquest process, the coroners have been supportive in their review and investigation. What they have said is that if anybody had any evidence to support that a person has died... a criminal matter... assaulted... if there is evidence they should bring it back to the coroner, bring it back to the police to be investigated."
Jackson said police had a "very high detection rate" for homicides and manslaughters. He said in one of the cases "an individual" had been spoken to, "but due to the circumstances around it" no charges were laid.
Despite reassurances from police, some of the families that spoke to Channel 4 believe a serial killer could be at large, or that their love-ones deaths may have been suspicious.
One such family is that of Souvik Pal who was found dead in the Bridgewater Canal three weeks after he had been ejected from a New Year's Eve party at the Warehouse Project dance night in Trafford Park in 2013.
Pal was seen walking away from the venue with a mystery man. CCTV footage showed two men then crossing a canal bridge before one tried to climb up a railing. The CCTV only shows one coming back but neither of the figures has ever been identified.
Coroner Joanne Kearsley has previously said of the case: "Despite extensive investigation it can not be ascertained where or how (Pal) he entered the water."
According to the Mirror the teenager's father, Santanu, told the documentary: "It needs to be investigated to find out if there is really a serial killer in this case.
"There must be involvement of a third party. That could be a straight case or that could be a serial killer."
The parents of Plunkett - who was found dead in Manchester Ship Canal in 2012 - also dismissed police claims their son's death was an accident. They say they heard "screaming and howling" in the last phone call he made before his death.
And the mother of Tomlinson - found dead in the River Irwell in 2011, two months after a Christmas night - also believes his death was suspicious as his coat, phone, passport and wallet were missing.
She said: "I have always thought Nathan's death was suspicious.
"There were a lot of flaws in the investigation and the police were slow at the start."
Police have previously said a number of deaths were due to alcohol, while other were suicides.