The government has defended advice issued to parents and teachers to help protect children from radicalisation online, after criticism that many of the signs a person had become vulnerable to extremism were simply normal teenage behaviour.
Nicky Morgan, education secretary, had announced the launch of a new website to offer guidance based on resources drawn up by ministers and charities including the NSPCC.
It was published as part of a new raft of measures aimed at keeping teenagers safe from "the spell of twisted ideologies", Morgan said.
She told BBC Radio 4's Today programme that parents and school leaders would be told to look out for children being argumentative; spending excessive time on mobile phones; and taking an interest in foreign affairs for early signs of radicalisation risk.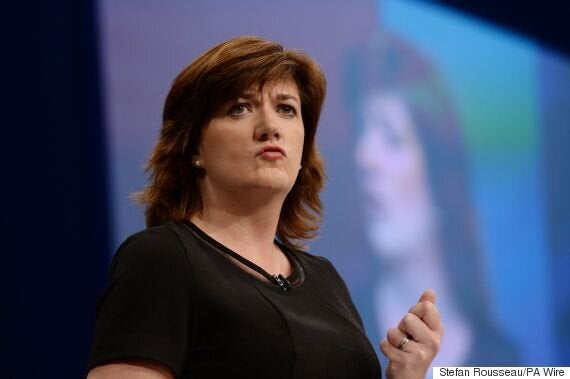 Morgan launched her new website on Tuesday
But the Loughborough MP was hit with claims that such 'signs' were simply just symptoms of teenage behaviour, forcing her to reply: "Of course children are going to be spending time online but the question is what are they looking at."
Presenter Mishal Husain asked whether, if it was understood such signs were a normal part of adolescent life, they were "only a problem if the children concerned are Muslim".
Morgan denied the suggestion, saying her new 'Educate Against Hate' website referenced different forms of extremism - including radicalisation by the far-right.
"It's anything that means young bright children suddenly change their behaviour, they adopt different beliefs or different customs.
"That's why the website is called 'Educate Against Hate' - it's about hating some of the value that we hold very dear that are right in this country."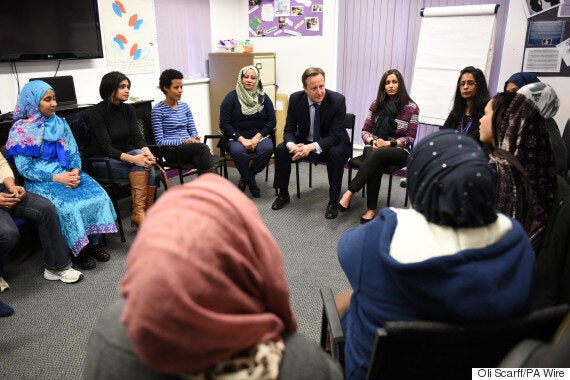 David Cameron meeting women on the day of his English skills announcement
The academy has been working to promote the best ways of protecting children from extremism, the DfE said.
Security Minister John Hayes said: "We have seen all too starkly and tragically the devastating impact radicalisation can have on individuals, families and communities. Terrorists have targeted our young people with their poisonous propaganda with terrible consequences."
The measures are the latest in a series of reforms announced by the Government to tackle extremism.
Last month, it was revealed that schools are be told to set filters and monitor pupils' internet access, amid growing concerns that some youngsters are at risk of being targeted by extremist groups, and a number of high-profile cases involving schoolchildren travelling, or attempting to travel, to Syria.
Ministers said that in some cases, young people had been able to access information about so-called Islamic State, otherwise known as Isis or Daesh, and foreign fighters through school computers.
In the same month, Morgan announced that she had asked Ofsted to prepare cases for prosecution against three unregistered schools in Birmingham.