A former porn star has been praised for remaining calm while an Indian journalist pushed her to say she regretted her past, in TV interview which labelled "unfair" and misogynist.
She appeared on the Indian talk show Hot Seat, where host Bhupendra Chaubey repeatedly asked her what she most regretted in life and if she was "worried" that her past would always haunt her.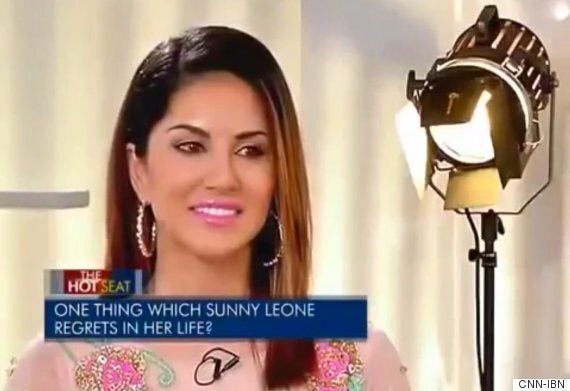 Leone said she was 'not affected' by criticism
The CNN-IBN talk show host ran through a list of negative comments that have been made about Leone, and said that politicians had blamed her for "corrupting" indian minds and morality.
Leone, who is a successful actress said to be worth $2.5 million, but a controversial figure in a country where porn is viewed as immoral by some, responded cooly to his questions.
Despite acknowledging that the world was "celebrating" her success, Chaubey opened the interview by asking: "Tell me one thing that you regret? One thing which you believe went wrong for you? What would that be?"
When Leone said she had "made mistakes" but her only regret in life was that she "didn't get home fast enough" when her mother died in 2008, Chaubey asked: "What kind of mistakes would you have made, personally, professionally?"
"There is something about Sunny Leone which generates a lot of curiosity," the TV host said. "If you get upset sometimes by this curiosity or the negative comments which sometimes appear about you..."
"I'm a human being," Leone cut in. "I am also a human being that's a woman, so I definitely get upset. I don't show anybody that I'm upset, ever."
Watch the full interview:
Chaubey then claimed that another TV host had been unhappy about working with Leone because he "thought that he had family audiences, and Sunny Leone really didn't fit into the description of family audiences. Is this true?"
Leone pointed out she had appeared on the show in question many times, saying: "I'm happy that I got to be on his show and I'm sure that if he had an issue... I wouldn't be on his show multiple times."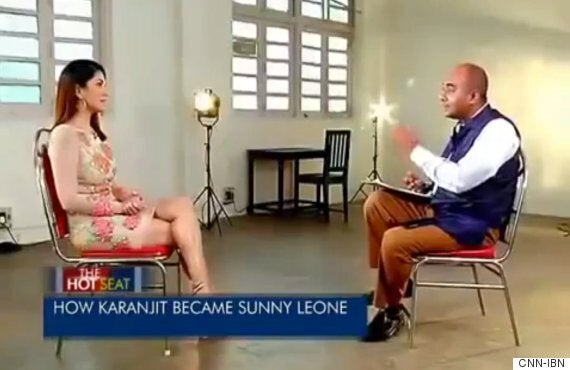 Leone remained calm under the questioning
Chaubey then said he had heard that her latest film director had trouble finding a male star to perform alongside her as "no-body" wanted to work with her, asking: "Did that make you feel bad?"
He later said: "There is a lot of resistance, inhibitions about you, how do you deal with that?"
"I actually don't care about anybody else's inhibitions," Leone replied, "or what they're insecure with if they want to work with me or not, it doesn't affect my life at all. I work every single day and I'm very happy with that."
Leone said she would like to work with Bollywood superstar Aamir Khan, but wasn't sure he'd work with her. Chaubey then asked: "So you would want to work with Aamir Khan but Aamir Khan wouldn't work with you. How does that reflect on you then?"
"Of course I have dreams, and everybody who's in entertainment, most people are dreamers," responded Leone, "but first and foremost I'm a businessperson and I'm a realist."
"But aren't you worried Sunny?" Chaubey continued. "On one hand you say you're a businessperson, you're a realist, I take that point. But do you not sometimes get affected by the fact that your past - that you were this porn queen - will continue to haunt you?"
Leone hit back, saying: "But you're the only person that [says that]. It's the press and the media that says 'holding back' or 'haunt'. I've never said haunt, I've never said held back. I'm not held back. It's like I said, I work. Maybe I don't know yet, maybe one day I'll get to work with somebody who's a huge star."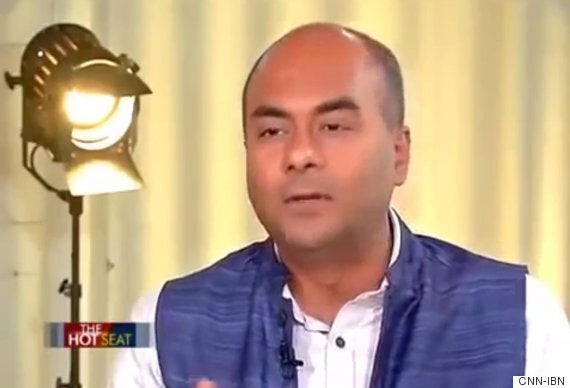 Chaubey said her past would 'haunt' her
Chaubey continued his focus on her porn work, asking: "Is your past now, literally, figuratively, in every way a thing of the past now? I began this interview by asking you if there was one thing you would regret, and you spoke about your mother. But if I was to turn the clock back, would you still do what you did?"
Leone replied that she was "100 per cent" happy with her work in porn, saying: "Everything that I've done in my life has led me into this seat," the star replied, explaining: "that's what life is all about, when you grow, when you're young, you make decisions that lead you to who you are as a adult, and that's just the way that it works."
Chaubey continued undeterred, replying: "How many people would think in terms of growing up to be a porn star?" before adding that a politician had accused her of "corrupting" Indian minds and morality in a speech.
"I am happy to be a part of a political speech," Leone responded, laughing. "If you think about me so much in your day, you want to put me in your speeches and you want yo blame me for things, I think it's that person's choice. I'm waiting for Obama to make a speech about me."
After the interview, Leone posted a video on her Facebook page thanking fans for the support she had received, though not specifically mentioning the interview. The video has been viewed over 800,000 times.
Others voiced their support for her online:
"The existence of the question is rooted in the belief that the woman's past is loathsome and she can only hope to redeem herself by profusely apologising for it, accompanied with copious tears and preferably a tragic backstory. "
"Chaubey could hardly believe her audacity. What, she doesn't regret being a porn star? What, she doesn't regret the fact that Aamir Khan may never work with her? What, she doesn't regret the fact that some never-heard-of politician has accused her of being responsible for incidents of sexual violence? Chaubey seemed suitably shocked that Leone treated no-brainers the way they should be--with ample disregard."
Popular in the Community