A 13-year-old boy from Bradford who saved two young children after a hoverboard exploded has spoken out about his intervention.
"I ran back inside - got Karen - and I shouted come Tony, follow me - and then I grabbed Karen and took her upstairs, put her in the room and then I ran back down and grabbed Tony, at first I thought Tony might have died in the explosion because I was shouting 'Tony, Tony' but then I went into room and I saw 'im and I pulled him out," Jibril Muhammed Faris said.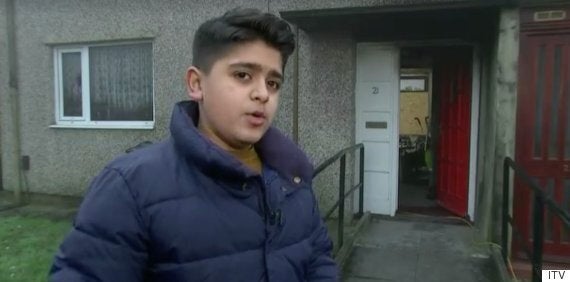 Jibril Muhammed Faris saved two younger children from a house fire in Wyke
Faris was at his friend's house last Friday when the board set alight while it was on charge. He led his two friends to safety at the house in Wyke, near Bradford, and called 999.
The teenager has been hailed a hero by the fire service for his actions.
"When you're in the moment you're thinking of all possible ways but the only way I thought was to jump out the window because there were too much smoke to get out," he said.
He also said had been upset to hear about a burglary that had taken place at the house two days after the fire.
"It's just wrong because when somebody's been kicked down already and they get kicked down even more and they have even less - they have nothing now."
Following the incident, Faris' father contacted the Costco store in Leeds where they bought the hoverboard and was told that it had been recalled.
Related