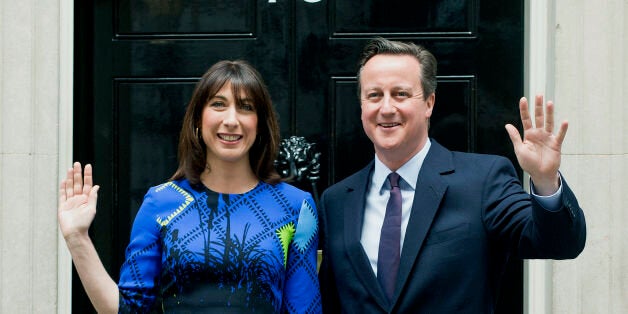 Samantha Cameron warned her children to expect to be on the receiving end of "oink oink" jokes in the wake of allegations her husband, the prime minister, took part in a Oxford University ritual involving a pig, it has been claimed.
Mrs Cameron is said to have revealed the parenting advice in a private conversation as she took part in a celebrity special of the BBC's Great British Bake Off programme.
The claim was made by Jason Manford, the Absolute Radio host who took part in the show alongside Mrs Cameron.
Manford said Mrs Cameron was "nice" whereas the prime minister was "dead behind the eyes".
"I must say, now, you can probably guess from my accent that I didn't vote for her husband. But I'm surprised they don't roll her out more," he told radio listeners.
"I guess it was quite humorous I think until it went crazy. She did say something to me which I thought endeared her more to me. I said: 'has it been alright this week at home?' It's quite a weird conversation to be having with the prime minister's wife.
"She told me: 'yeah I just said to the kids Monday morning that you might get a few oink oink noises at school but just try not to fight with anybody'."
Manford added: "I thought that is good parenting advice."
The so-called 'piggate' scandal erupted last year after a biography of the prime minister claimed Cameron "inserted a private part of his anatomy" into a dead pig's mouth. The story was denied by Downing Street who dismissed it as " "nonsense".
The book was written by former Tory party donor Lord Michael Ashcroft and Isabel Oakeshott, a former Sunday Times political editor.
On the BBC's World At One, Ms Oakeshott defended the tale against the claim the story was "flimsy" since the sole source is an MP who also says there is a photograph of the incident.
Related