Women's bodies go through many physical changes during pregnancy, the majority which are out of their control.
Stretch marks are a natural result of a woman's skin stretching as she develops further in her pregnancy.
While the end result of giving birth is undoubtedly worth it, understanding how they can be prevented and treated will be welcomed.
Statistically, women getting stretch marks during pregnancy is relatively high with around 70% to 90% of women suffering from them in some way, according to the NHS.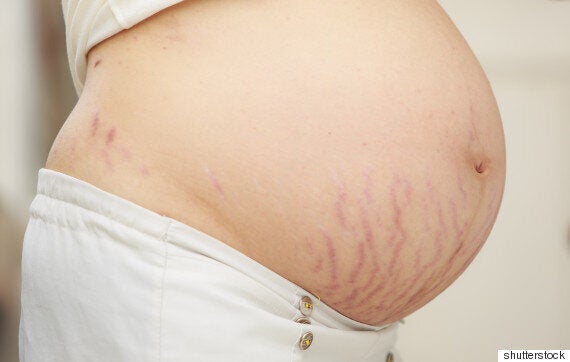 We chatted to dermatologists and doctors specialising in skin health to find out more.
Why causes women to get stretch marks during pregnancy?
"Stretch marks develop when the collagen in the skin is stretched beyond its elastic limit," Dr Justine Hextall, consultant dermatologist, at The Harley Medical Group told HuffPost UK Parents.
"This causes fissuring which appears as stretch marks in our skin."
During the latter stages of pregnancy specifically when the baby is rapidly growing, a woman's skin cells rupture due to being pulled apart so much.
When the cells rupture they will also leave scarring - the stretch mark.
"Some women have a genetic disposition to stretch marks, so if your mum had them you might be more likely to have them."
Dr Hextall agreed, adding: "There are some women who may just have more elastic skin and can sail through growth spurts and pregnancies with perfect skin, others are not so lucky.
"It is that old-age, look at your mother!"
How can I prevent getting stretch marks?
Before noticing stretch marks have developed, there are a number of things women can do to prevent them.
No single thing will always work, so understanding how you can look after your skin as early as possible will be an advantage.
Dr. Erich Schulte, founder of QMS Medicosmetics said an effective method to prevent stretch marks is a combination of regular exercise and healthy nutrition.
Maintaining a healthy weight will minimise any rapid weight gain that could contribute towards excessive stretching of the skin.
He told HuffPost UK Parents: "Boost your routine with supplements ideally containing Vitamins E and C (like Intravital Plus) and make sure you choose skincare products that will strengthen the collagen and elastin fibres in your skin tissue before you're further along in your pregnancy."
Dr. Kishan Raichuram, skin health expert at IGDP, said another way to prevent stretch marks is through keeping your skin as healthy and hydrated as possible.
"While it's impossible to entirely prevent them, pregnant women can improve skin condition to hopefully reduce the chances by keep the area well moisturised and nourished," he said.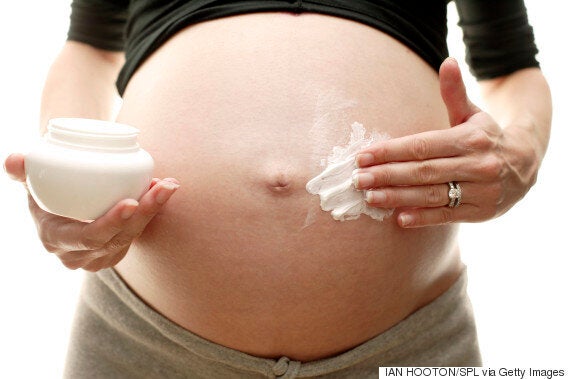 Dr. Schulte agreed, adding that preparing your skin as soon as you know you are pregnant will help strengthen it.
He explained: "This will make your less prone to damage and injury to the tissue. It will also help restore the skin post-pregnancy.
"Exfoliation is a key benefit as that continues to stimulate the cell turnover and works well in conjunction with body-firming creams.
"Also don't stop the skin care routine once you have given birth as the skin still needs the support."
What should women do if they notice them during pregnancy?
Firstly, don't panic - finding stretch marks on your stomach does not mean they will stay there forever.
The wider, red, dipped scarring will improve significantly and over time, they are likely to become less pigmented and more silvery in colour.
"If stretch marks do develop try to prevent too much sun exposure to the area as they can pigment and take longer to fade," explained Dr Hextall.
"Massaging the skin with bio-oil or silica gel may well reduce the redness and improve the appearance.
"I like Bio-oil as it is very accessible for patients and enables them to be pro-active in treating their stretch marks. I suggest massaging oil into the skin.
"Soon the redness of new stretch marks fades and they appear silvery and as such are much less noticeable.
"Topical silica gels are also good at reducing redness in all scars."
For pregnant women, Bio oil is recommended to be massaged in a circular motion into the stretch marks, twice daily.
It should be applied from the start of the second trimester to areas that are prone to stretch marks such as the abdomen, breasts, lower back, hips, buttocks and thighs.
Midwife Scanlon agreed that moisturising and massaging your stretch marks will be beneficial, as well as keeping hydrated.
"Drinking lots of water will keep your skin more elastic," she said.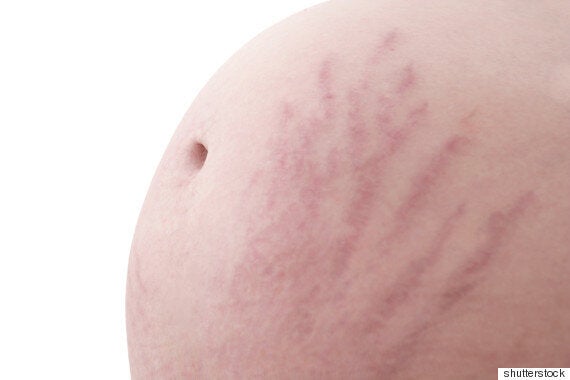 Are there any treatments to get rid of stretch marks post-pregnancy?
There are more invasive techniques women can try with a higher chance of removing stretch marks.
Dr Hextall said The Harley Medical Group's Dermaroller involves 'micro-needling' to stimulate the skin and regenerate naturally and safely.
Also referred to as 'Collagen Induction Therapy', this treatment introduces fine needles to the skin to create microscopic channels.
The skin is encouraged to produce new collagen which will generate new skin cells. The skin then becomes thicker and plumper reducing any marks.
She explained: "Another treatment includes bipolar radio frequency which also helps to stimulate new collagen.
"This also has the effect of plumping and tightening the skin which lessens the appearance of stretch marks."
This treatment delivers targeted heat to the dermis [the lower or inner layer of the two main layers of cells that make up the skin]. The energy is delivered beneath the surface of the stretch mark, stimulating the body's natural healing response and maximising collagen production.
Dr. Raichura agreed micro-needling is helpful in lessening the appearance of stretch marks.
He said: "It can be very effective but of course the result varies with individual cases and relies totally on the 'natural' healing processes of the body.
"Other treatments include formulations of Vitamin A which are improve surface texture and pigmentation, and can be combined with skin peels to enhance the result further.
"Laser resurfacing, dermabrasion and even surgery (in extreme cases) are also options for treating stretch marks."
Dr Hextall said her main advice would be for women not to worry if they notice them.
"Relax, you are not alone!" she said. "Around 80% of women develop stretch marks in pregnancy, the appearance will improve naturally over time, it's amazing how our bodies and specifically our skin will bounce back.
"Try to enjoy your pregnancy and look forward to your new baby, that's the most important thing."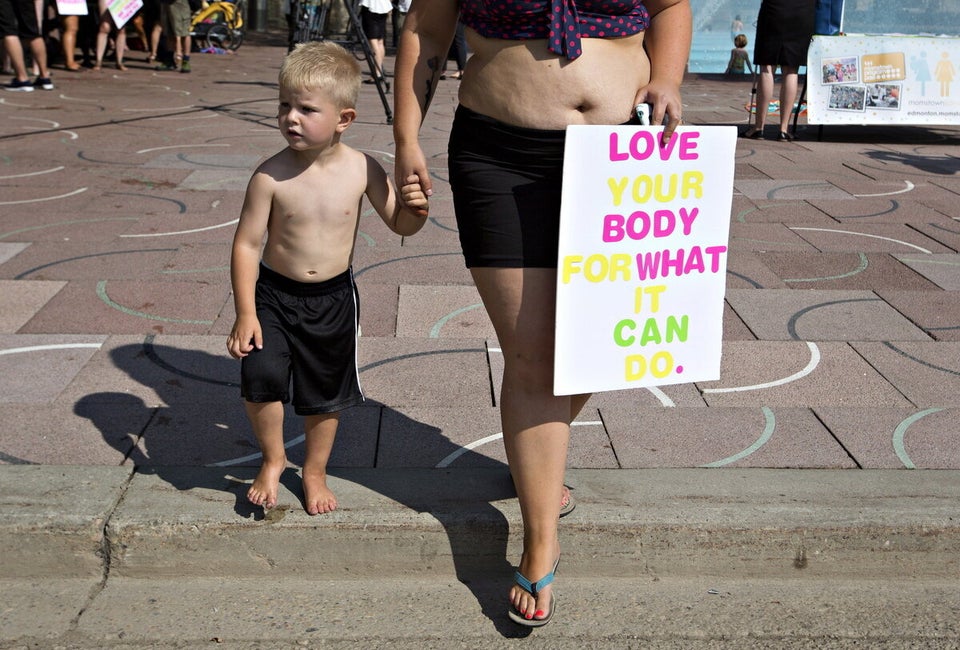 Moms Bare Stretch Marks In Support Of Friend
Related