A super slimmer who used to consume up to 5,000 calories a day dropped nine stone after dramatically changing her lifestyle.
Katy Collingwood weighed 21st at her biggest, and says she hadn't realised how many calories she was taking in daily until she began to log her food and drink on a phone app.
And Katy said one of the biggest realisations was that she was consuming around 1,000 calories each day in Ribena alone.
Now she is hoping that sharing her story will inspire others to follow in her footsteps.
The 35-year-old said: "In 2009 I went on a crash diet and lost 10 stone, but it wasn't a healthy way to do it and it didn't teach me anything, so I quickly put seven stone back on."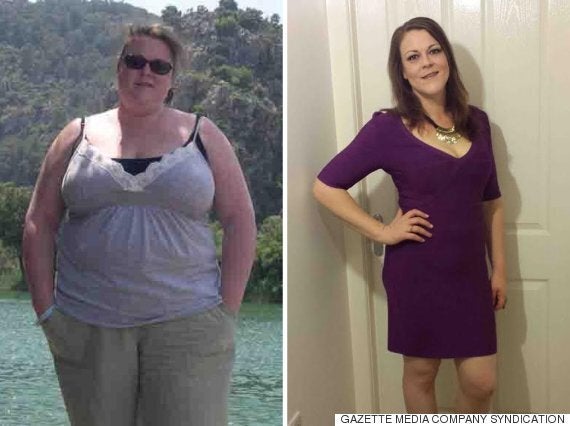 By 2014, Katy still weighed on average around 17 stone, and it was at that point she decided it was time to make a big change.
She said: "I used My Fitness Pal and realised I could have about 5,000 calories on a weekend day and 3,000 on a normal working day. It really opened my eyes.
"I knew I wasn't eating right but and we had a lot of takeaways, but I hadn't realised where all the calories were coming from. I used to have a lot of Tropical Ribena drinks, something like five a day – that's about a thousand calories."
She added: "I wanted to be more active so I joined the gym. I didn't actually think I would stick with it so I joined on a rolling month membership rather than the year.
"I found I got this pleasure from working hard at the gym so I kept going.
"In the first week I lost 7lb. My aim was 7lb a month, so I was shocked at how well it went and that spurred me on."
From June to December, she lost 6st. Katy is now down to just over 12st.
As well as overhauling her diet and taking up exercise, Katy, who lives with boyfriend Peter Joseph, has also found a new lease of life since joining a netball club.
Having not played since school, aside from a brief return to the sport nearly ten years ago, she thought she would be so bad she would only go once.
"I went along with the stupidly preconceived belief that I would be terrible and they would ask me not to darken their doorstep again," she said.
"I thought they would be a clique and would be difficult to fit in and that they'd be world class standard players.
"I couldn't be more wrong."
Katy attends the Back to Netball session run by Cleveland Classics in Ingleby Barwick, but there are sessions run across Teesside, Darlington and east Durham.
The players at Katy's session have been affiliated to England Netball and now play in a Back to Netball league in Thornaby.
"The week I got voted man of the match by my team mates, you'd have thought I'd won an Oscar," she said.
"I've made some fantastic friends as well."