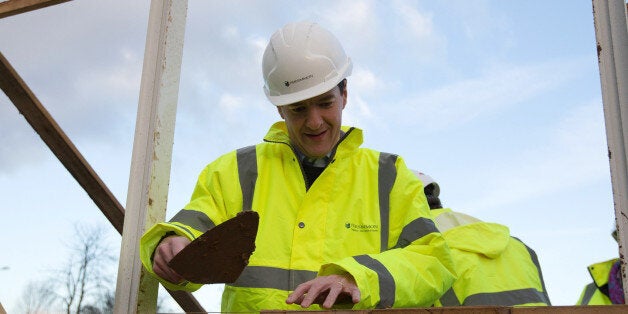 Just 200 homes have been built on public land sold off by the Government over the last five years, new figures have revealed.
Despite the land having a capacity for 109,000 homes, the only record of any homebuilding points to a fraction of them being actually constructed, MPs on the Public Accounts Committee heard.
The statistics came just weeks after David Cameron pledged to build hundreds of thousands of homes every year, as he battles to make housing a key legacy of his premiership.
Downing Street today insisted that despite the figures, it was determined to deliver a million new houses and flats by 2020.
But Shadow Communities Secretary John Healey told HuffPost UK: "As usual on housing, the Prime Minister has promised big but delivered little".
"The Government is failing to get good value for taxpayers' money, and failing millions of people who desperately need an affordable home to rent or buy."
In evidence to MPs, Whitehall officials from the Department for Communities and Local Government (DCLG) said that they had carried out research on 100 of 942 sites sold as part of the Tory-Lib Dem Coalition's drive to free up spare land owned by the taxpayer.
And the only records found were of 200 being built.
Extrapolating the 200 homes figure to the whole programme could suggest that about 1,800 homes have been built in total, but even that would be just 2% of the number expected by the NAO and Whitehall cannot say for sure as it does not know what happened to the other 842 sites which have been sold.
Meg Hillier, the Public Accounts Committee chairman, also told HuffPost UK: "The Government set out to provide land for 10,0000 homes. Five years on it doesn't know how many homes are built. On its own figures it's only 2% so far. Add to that ministers have explicitly ruled out counting the homes built in the next five years. Sir Humphrey is alive and kicking at DCLG."
Despite warnings from the National Audit Office for better record-keeping, the senior civil servants admitted that it would be upto ministers to require more monitoring of the results of public land sales.
Work has started on a further 2,400 homes, with 2,100 having received planning permission and 4,300 awaiting planning permission, one sample projected.
Melanie Dawes, the Permanent Secretary at the DCLG, said that the figures showed that "build-out can take a long time".
"It can take 20 years for some of these sites to build out," she said.
But her approach infuriated MPs on the committee, with chair Meg Hillier complaining that "we still don't know how many homes have actually been built".
Tory MP Stewart Jackson, a Conservative MP and committee member, said he was "very sceptical" about the department's wider claims of success, dubbing the 200 figure "very poor performance".
And fellow committee member Richard Bacon slated the department, accusing officials of "absolving yourself of the responsibility of making sure housing is built" on sites that government has sold off.
Both he and Mr Jackson said it was hard to see why it should take decades to build homes on the land.
Asked about the 200 figure, a spokesman for the Prime Minister today said: "The commitment is clear: we want to deliver 1 million new homes at the end of this Parliament.
"Numbers are increasing but clearly there is a lot more to do."