The grandparents of a severely disabled teenager who won a Court of Appeal challenge over the lawfulness of the so-called "bedroom tax" said they could "cry with happiness" following Wednesday's verdict.
Paul and Sue Rutherford's case was one of two that judges today said were discriminatory, with another case involving a victim of domestic violence.
The Rutherfords' grandson, Warren, has a rare genetic disorder which means he is unable to walk, talk or feed himself and is doubly incontinent.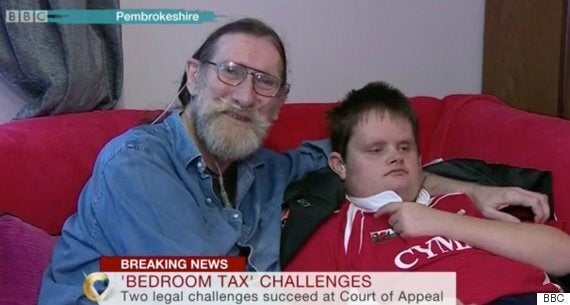 Paul Rutherford speaking to the BBC following Wednesday's ruling
The family live in a three-bedroom bungalow, adapted for his needs, with the couple in one room, Warren in another, and the third needed for carers staying overnight and to store equipment.
Mr Rutherford said he was "absolutely delighted" with the court's ruling today.
Speaking to the BBC, he said: "I am a bit lost for words. I could almost cry with happiness. And I hope that other people in our situation are going to benefit from this court's decision as well."
Speaking of the relief he felt at the ruling, he said: "We had the discretionary housing payments from the council to make up the shortfall but we were always worried that that would stop.
"So we never felt secure being here anymore and that put a big strain on Sue and I as people - just the uncertainty of not knowing what was going to happen in the future all the time."
They launched a judicial review over the regulations, which allow for an additional bedroom if the claimant or their partner require overnight care but make no provision for children who need an overnight carer.
When their case was dismissed at the High Court in 2014, Mr Justice Stuart-Smith said that a discretionary housing payment made by Pembrokeshire County Council covered the rental shortfall until April 2015 and there was no evidence to suggest it would refuse to make up the shortfall in the future.
Disability charity Scope welcomed today's ruling.
Beth Grossman, head of policy at Scope, said: "For the vast majority of disabled people these are not spare bedrooms, these are essential rooms. Many people need a room for specialist equipment, or so that their disabled child can sleep separately from their siblings, or with a carer.
"We've spoken to disabled people who aren't able to share a specially adapted bed with their partner, and have to sleep in a separate room.
"They're being forced to move, or find the extra cash they don't have to pay their rent. Life costs more if you are disabled. Scope research shows disabled people pay more for all kinds of everyday things – on average a premium of £550 per month.
"We should be looking at ways to bring costs down rather than ramping them up."
Carers UK said that there are currently 60,000 carers affected by the subsidy.
Heléna Herklots, Chief Executive of Carers UK, said: "This policy is having a catastrophic impact on families, many of whom are already struggling practically, emotionally and financially to care for seriously-ill or disabled loved ones.
"Carers UK has argued that the policy unfairly penalises carers since it was first introduced in April 2013. Our research shows that those carers who are affected by the bedroom tax are being left unable to pay their electricity and heating bills and some families are falling behind on their rent and facing eviction.
"Following today's ruling, we urge the Government to amend the regulations to protect carers and their families. The policy is clearly having a devastating impact on vulnerable families and the Government cannot allow this to continue."
Another case was brought by a single mother living in a three-bedroom council house fitted with a secure panic room to protect her from a violent ex-partner. Her case highlighted the effect of the "bedroom tax" on women living in Sanctuary Scheme homes.
Judges had previously heard that the domestic violence victim had been raped, assaulted and threatened by her former partner. Yet she was still faced with losing £11.65 a week from her benefits.
This was because her panic room was regarded as a spare room under the regulations and she was deemed to be "under occupying" her home, the Press Association reports.
The Department for Work and Pensions (DWP) argued that her challenge lacked credibility because funds in the form of discretionary housing payments (DHPs) were available through local councils to people facing exceptional circumstances.
In both cases it was argued that the policy, which came into force in April 2013, unlawfully discriminates - against women and domestic violence victims and against children in the situation of the Rutherfords' grandson.
Commenting on today's verdict, Rebecca Hilsenrath, CEO at the Equality and Human Rights Commission, said the group is pleased the court found the impact of the bedroom tax "discriminatory and unjustified".
She said: "Victims of serious domestic violence who are reliant on full housing benefit are in an extremely vulnerable situation and their life can be under threat. Their protection is paramount.
"The new regulations reduced housing benefits for those within the Sanctuary Scheme because their accommodation was a safe-house and therefore larger than usual.
"This could result in an inability to pay the rent and therefore eviction. The effect for a victim of domestic violence of losing a secure home is profound and could be extremely dangerous."
The Government rejects the term ''bedroom tax'' and says the regulations remove what is in fact a "spare room subsidy", with the aim of encouraging people to move to smaller properties and save around £480m a year from the housing benefit bill.
Lord Chief Justice Lord Thomas, Lord Justice Tomlinson and Lord Justice Vos announced that they were allowing the appeals in both cases on the ground that the "admitted discrimination in each case ... has not been justified by the Secretary of State".
The DWP was given permission to challenge the Court of Appeal's ruling at the Supreme Court.