The five things you need to know on Thursday January 28, 2016…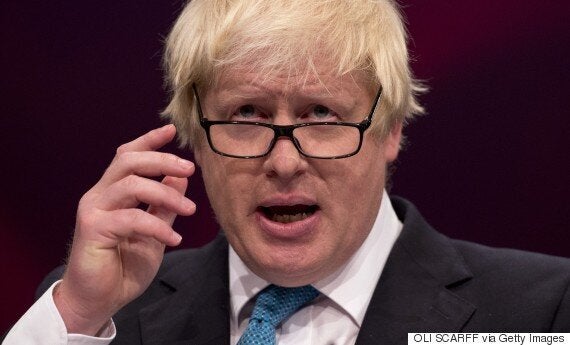 Tory backbenchers have long suspected that the Cabinet features many 'plastic Eurosceptics' who, when push comes to shove, will cave in and put their own careers above Brexit. Today, they may be a little more cynical than usual.
The Sun reports that No10 now thinks that both Boris Johnson and Michael Gove have decided to back the Remain campaign. A senior Cabinet source said: "For quite different reasons, Boris and Michael are going to campaign for Remain. That is now No10's strong working understanding and it's a big moment."
Gove is said to want to back Remain out of personal loyalty to Dave and George. He and Boris are also pleased they will get a new law and German constitutional court-style powers of sovereignty.
Yet given Boris's long record of playing footsie with the Eurosceptic Right (note his most recent 'great, great future' outside the EU line), and the need to secure enough names for a leadership ballot, this is tricky territory for him. No wonder a friend of Boris said: "It's simply not true that Boris is in the bag. He hasn't seen the detail, and like everyone else he's waiting for the outcome of the renegotiation". Given Boris has repeatedly insisted border control is the main issue, surely he won't roll over so easily? Will he?
A spokesman for Mr Gove added: "It would be premature for anyone to make a judgement before the deal is concluded."
Stephen Crabb, a dark horse for the future leadership, today makes a speech saying he's not in the EU 'fan club'. But he does indicate he could back Remain if the PM gets the right deal.
Meanwhile, the PM has a hastily arranged new meeting with Juncker in Brussels tomorrow, and had to cancel a trip to Denmark and Sweden to fit it in. The Telegraph thinks it's a move that underlines how 'deadlocked' the EU talks are at the moment.
There's some good news for the Vote Leave camp though. The Times reports how Dominic Cummings and Matthew Elliot survived a 'botched coup' against them by Tory MPs who felt they were getting in the way of a united Out campaign.
The FT splashes on a PR fightback from Google and Apple over their tax affairs, with them claiming everything they do is within the law. But it's not just about the law for some.
The Times quotes James Anderson, whose Scottish Mortgage Investment Trust owns £120m of shares in Google's parent company Alphabet, saying it's time for voluntary corporate responsibility (the kind Dave and George have been urging on firms for years): "My take remains that it is in the long-term interests of Google and others of that ilk to pay decent rates of tax and that they and others would be best served in taking the lead in volunteering this. They are beneficiaries of state spending at many levels and in return they would get respect."
Rupert Murdoch's tweets about 'posh boys' in No10 being lobbied to the eyeballs by Google and co has given a few papers a way into the story (though online many couldn't resist gags about Murdoch's own lobbying of No.10 over the years).
The Sun reports Vince Cable saying Osborne 'idolised' Google boss Eric Schmidt (as those of us who remember him at a Tory conference would concur) and hung on his 'every word' while a member of the PM's Advisory Council. Cable made a further point that Osborne had undermined Brussels' attempts to take wider action against the tech giant. EU Commissioner for Competition Margrethe Vestager told Today she'd investigate Google's UK deal if asked.
The Mail and others pick up on the ever-candid Anna Soubry's words from Wato on Google's tax settlement: "It doesn't sound like an awful lot of money, of course it doesn't. It would be silly to say otherwise."
Note however that there's rare praise for Jeremy Corbyn in the Daily Mail leader today, saying "the question from 'Jeff' was one all taxpayers have wanted answered". The Mail seems less happy however with its former political editor James Chapman, now Osborne's comms chief. "More insulting still was the way it was announced, with 9pm leaks to favoured outlets and a midnight tweet by the Chancellor hailing 'victory'. George Osborne's attempts at news management were reminiscent of Alastair Campbell at his most cynical."
In fact, it may have been Google's own PR decision to leak to just the FT and Guardian but the Tweet damage was done by the Treasury for sure.
Seema Malhotra, the Shadow Chief Sec to the Treasury, blogs for HuffPost on why there needs to be more tranparency on the Google deal.
The big midnight announcement from the Government was that it would after all take in more unaccompanied Syrian child migrants. But the number is likely to be in the hundreds not the 3,000 demanded by charities and Labour and the Lib Dems (Farron pulled his punch at PMQs perhaps knowing some movement was on the way?).
And crucially the new entrants will come not from within the EU but from countries bordering Syria. This is central to David Cameron's approach to the crisis, insisting that properly managed migration and properly managed refugee claims are the only way you win public support - without creating the 'pull factor' that has caused Germany so many problems. Sweden deciding to deport tens of thousands of migrants today is seen as further proof in No10 of its own approach.
There's a bit more cash too, with a £10m fund to help those kids who've already made it to Europe. The Guardian reports on a British school 'superhead' is helping create a school in one of the refugee camps in France.
BECAUSE YOU'VE READ THIS FAR…
"I'm normally being given flowers for being David's wife, so it's really nice being given flowers for, you know, doing something that I've done on my own."
Jeremy Corbyn was slow to react yesterday when David Cameron uttered his 'bunch of migrants' line. Tory backbenches weren't slow at all, and having cheered at the Falklands and other jibes, they became instantly muted at that line. Hilary Benn spotted the blunder instantly, mouthing the phrase while shaking his head. Although Corbyn wanted to change tack to bedroom tax with his next question, it was a lesson in why PMQs still needs an ability to think on your feet.
It often seems that Corbyn misses an open goal (his line about Jeff's taxes was an easy one for Cameron given that it was predicated on a desire for lower taxes, not higher ones), while an over-confident Cameron scores own goals in PMQs.
Neil Kinnock in the Statesman warns that 'conclusions will be drawn' if Corbyn can't lead Labour to 'advances' with the electorate. But Kinnock also sounded very much like many Labour MPs who are giving their leader until May 2017 to show serious progress, saying he needs 'some space'. He adds that 'disruptive action in the short term will be fruitless'. Many felt that 'short term' meant May this year was a bad time for a coup, not least given the EU referendum.
Still, the PM is not letting up on attacks on the 'national security' threat posed by Corbyn (and Sadiq Khan - see HERE).
The Times picks up on Danny Blanchflower's warning in the Statesman that Team Corbyn need to abandon ideas like banning companies from paying dividends unless they paid staff the living wage (remember this was one that ex-policy chief Neale Coleman wasn't consulted over).
In a quote ready-made for next week's PMQs, the ex Bank of England man says: "The new Labour leaders are not economists and are going to have to learn fast. They will have to accept the realities of capitalism and modern markets, like it or not. No more silly stuff about companies not being able to pay dividends if they don't do X or Y."
The Indy reports that Michael Gove is 'highly sympathetic' to a new law to help prevent other families of disaster victims to avoid the trauma suffered by relatives of the 96 football fans who died at Hillsborough.
Michael Wills' Private Members Bill in the Lords tomorrow calls for a state-funded, independent Public Advocate to be appointed to act for bereaved families after a public disaster. The Advocate would support them through official processes such as a public inquiry or inquest.
Although the backbench Bill is unlikely to become law due to lack of parliamentary time, the Government could promise its own legislation.
If you're reading this on the web, sign-up HERE to get the WaughZone delivered to your inbox.
Got something you want to share? Please send any stories/tips/quotes/pix/plugs/gossip to Paul Waugh (paul.waugh@huffingtonpost.com), Ned Simons (ned.simons@huffingtonpost.com), Graeme Demianyk (graeme.demianyk@huffingtonpost.com) and Owen Bennett (owen.bennett@huffingtonpost.com)
Popular in the Community