Three men have opened up about their experience of living with a micropenis, live on TV.
Ant Smith, Jack Davis, Clive Symonds sat on the sofa of ITV 'This Morning' opposite Eamonn Holmes and Ruth Langsford to talk about their manhood.
The co-hosts described the three men as "brave" for appearing on live TV to talk about such a sensitive subject. After all, it is believed that half of British men are concerned about their penis size.
Armed with a tape measure - yes, a tape measure - Ruth went on to demonstrate the length of each guest's penis: 4" Ant's penis is 4", Clive's is 3" and Jack's is 3", if you're wondering.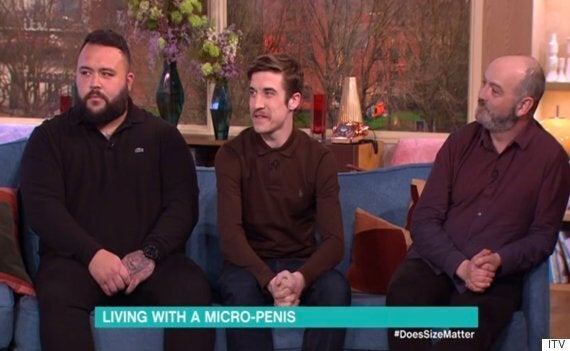 Speaking on the programme, Clive said he doesn't see his small penis as a handicap. "You just have to deal with it," he says. "I tried not to let it get me down."
When Eamonn questions them about their sex lives, all men are adamant that having a micropenis hasn't affected their performance.
Ant admits that the size of his penis was a "terrible worry" in his teens. But he and his wife have been together for 16 years and she's "never said there was a problem".
Jack, who is single, says he has "never had any problems or complaints".
One female viewer agreed, tweeting: "It's not about the size of the engine, but the driver."
The trio had advice for young men who may be concerned about their penis size.
Clive said: "Ignore what people say, don't let it get you down."
While Ant added: "Love your individuality."
Someone else who knows just how much penis size can affect relationships and confidence is star of Unhung Hero Patrick Moote.
The actor and comedian claims his ex-girlfriend rejected his proposal of marriage because his penis was too small.
"The first time I saw another man's penis was on the internet and it was a completely unfair representation of what a standard penis actually looks like. It also gives a really skewed version of what being intimate is – the guy's penis looks like a baby's arm and the woman is screaming like she's being murdered."
Moote said self-acceptance is the best way for a man with a micropenis to improve their sex life.
"What I realised is the more you embrace the insecurities the less people are likely to be able to break down," he said.
"What I realised is it takes more energy and time to change things about yourself that you can't than it does to accept them. I'm way better about my insecurities because I can try to accept them or try to change them."