Republican politician Ted Cruz has been embarrassed by his own daughter in a cringeworthy video filmed just after he made a speech on his presidential campaign trail.
The 45-year-old, who is Donald Trump's main challenger, reached out to kiss the seven-year-old Caroline, who made it clear she wanted no part in it.
In the clip the Texas Senator affectionately reaches towards his daughter, but Caroline, clearly feeling embarrassed herself, attempts to flick him away before squirming and loudly shouting "no, no, no!" as her father tries to embrace her.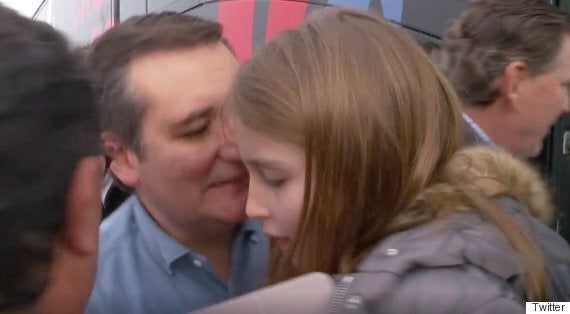 Caroline Cruz shouts "no, no, no" as her father tries to kiss her
Cruz is spending every last minute campaigning as the Iowa caucus kicks off on Monday, and he will be hoping to defeat controversial frontrunner Trump.
Despite trailing behind, Cruz has refused to concede defeat before voting takes place, which will be a key indicator of who will become the Republican candidate to stand for president.
The Canadian-born candidate has two daughters, Catherine, aged 4, and Caroline, with his wife Heidi.
The video, posted onto Twitter by a BBC journalist, sparked an online debate, with some arguing that Caroline's actions were completely justified, and others using to describe the candidate as "tasteless".