He's best known as the voice of 'Come Dine With Me', but narrator Dave Lamb has stepped out from behind the microphone and in front of the camera to make his first on-screen appearance on the Channel 4 culinary competition.
After 11 years of hearing only his voice, 'Come Dine With Me' viewers were shocked when he popped up during the new 'Champions Of Champions' series.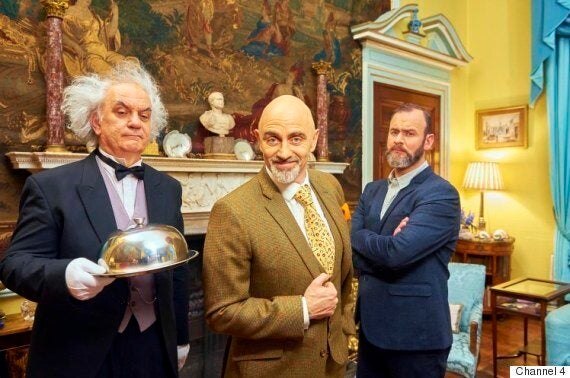 Dave Lamb (centre) appeared on-camera on 'Come Dine With Me'
Dave was seen inviting previous winners to his country manor as they vied to be crowned the ultimate champ on Monday's (1 February) show.
Ahead of his appearance, Dave took to Twitter to joke that it had been a rather different experience than when he usually goes to work on 'Come Dine With Me'.
He tweeted: "Yep. For the first time in eleven years I've gone into work with my trousers on."
However, you may not realise that this isn't in fact Dave's first time on screen.
He appeared as script writer Carl Morris on ITV comedy-drama 'Moving Wallpaper' in 2008, while he most recently appeared on revived version of 'The Tracey Ullman Show'.
Dave Lamb fans will be able to catch him on-screen for the next fortnight, as the 'Champion Of Champions' series continues, airing weeknights at 5pm on Channel 4.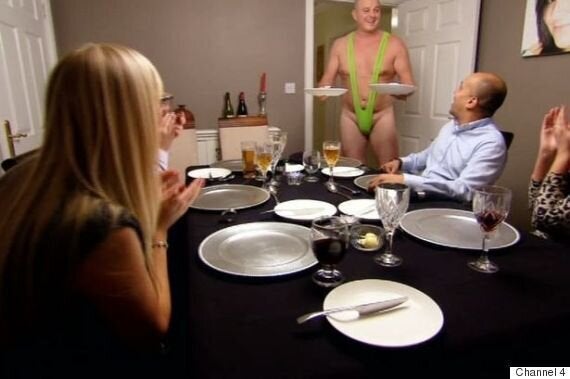 'Come Dine With Me': Most Memorable Moments