The closeness of the Hillary Clinton and Bernie Sanders Iowa caucus result has been summed up in one video, which shows a ballot being decided by flipping a coin.
A group can be seen crowding around as the winner is decided using the age-old technique, after the two Democrats entered into a "virtual tie".
"So our official delegate for this precinct is Hillary Clinton - it was very very close, remember this is a caucus, it was very very close," said a woman observing the toss.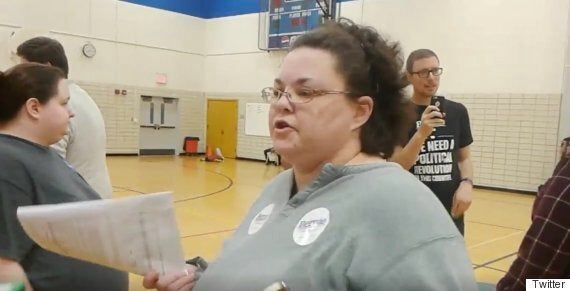 Clinton won six coin tosses in total
Clinton won six of the coin tosses in total, in Newton, Ames, West Branch and Davenport, as well as two precincts in Des Moines.
The unlikely technique is written as a rule under Iowa's Democratic caucus guide, whereby ties between two or more candidates can be determined by a coin toss.
The guide states: "Note: In a case where two or more preference groups are tied for the loss of a delegate, a coin shall be tossed to determine who loses the delegate."
People shared examples of the coin tosses taking place:
But not everyone was pleased with the coin toss technique.
Despite skepticism from Sanders supporters, Matt Paul, director of Clinton's campaign in Iowa, claimed a narrow win for his candidate and said: "After thorough reporting – and analysis – of results, there is no uncertainty and Secretary Clinton has clearly won the most national and state delegates. Statistically, there is no outstanding information that could change the results and no way that Senator Sanders can overcome Secretary Clinton's advantage."
A some-what unexpected cliffhanger, "The results tonight are the closest in Iowa Democratic caucus history," said state party chairman Andy McGuire.
Next the pair will face off in New Hampshire, where voters cast ordinary ballots, which offers the candidates a more straightforward sprint toward victory than the quixotic Iowa caucuses. But undeclared voters, who make up the largest bloc in New Hampshire, can vote in either party's primary, infusing the race with an added level of uncertainty. Democrats have 24 delegates at stake in New Hampshire and Republicans have 23.
Eight years ago, Clinton's victory in New Hampshire breathed fresh life into her campaign. But New Hampshire is also familiar territory for Sanders, who represents neighboring Vermont in the Senate and is well known among the state's voters. Sanders' sizable lead over Clinton in New Hampshire polls has held steady or increased in recent weeks.
Popular in the Community