An SNP MP has called on the home secretary to ban a controversial pick-up artist who has written that rape should be legalised, from entering the UK.
Owen Thompson, the 37-year-old Midlothian representative, is trying to block self-proclaimed 'neo-masculinist' Daryush Valizadeh, who goes by the name of Roosh V, from attending an international meet up of his fans.
Nine events have been organised in cities across the UK by the anti-feminist blogger, although it is unclear whether he will attend either the Edinburgh or Glasgow ones.
Thompson has urged Theresa May to prevent Valizadeh from entering the UK to make an appearance at either, arguing his "sexist and violent" speeches are tantamount to incitement.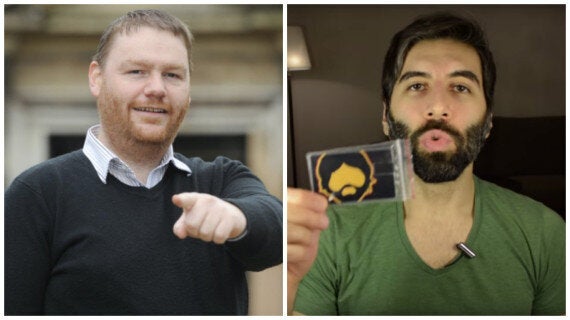 Thompson, left, is taking on Valizadeh, right
"Although I welcome the work by Police Scotland and other organisations do to raise awareness of sexual crime I believe that sexist and violent speeches are clear acts of incitement," he wrote.
"Roosh V has urged supporters to 'neutralize' feminist protestors 'by amassing in high numbers', and stresses the men should record footage of women who disrupt their meeting, uploading it to online 'so we can tear them up'.
"I therefore call on you to use your powers as Home Secretary to prevent Roosh V from entering the UK.
A fellow SNP MP, Tommy Sheppard, last night tweeted a photo of an Early Day Motion which would prevent the incitement of sexual crime and violence, which calls for action to be taken in light of the Valizadeh meetings.
"This house strongly condemns what it understands is the organisation of sexist and hate-mongering meetings across the United Kingdom by so-called pick-up artist 'Roosh V'," it read.
"This house believes that these meetings are misogynistic and that such behaviour is not tolerable in modern day society."
One social media user thanked Sheppard, saying she "felt quite threatened" by the upcoming Valizadeh event. "Can't believe I feel like this in 2016," she wrote.
A follow-up petition to the Scottish Government hoping to force Valizadeh's meetings to be called off has already amassed over 40,000 signatures.
Set up by campaigner Cat Boyd, it reads: "This makes our cities unsafe for at least half the population.
"Promoting rape is hate speech, and should be treated as such."
Comments on the petition from angry supporters include: "Anyone who promotes rape is encouraging people to break the law. This should be stopped for obvious reasons" and "We are supposed to be a civilised society, why would we promote or allow anyone else to promote barbaric practice?"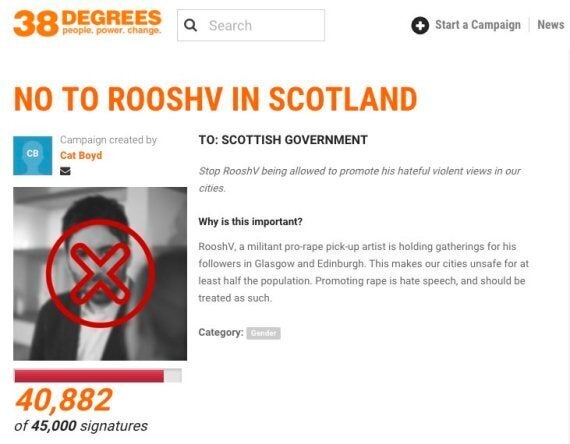 The appeal to ban Valizadeh has reached 40,000 signatures
An Australian personality recently pleaded in a TV address for people to ignore him and instead invest time in reading about the work of a women's refuge charity.
"Instead of linking to articles about Roosh V or responding to his calculated, vile tweets which just keep him trending, I challenge you to click something else," Waleed Aly said.
"Specifically, click on your social media and share a link to Lou's Place. This is a women's refuge in Sydney.
"You have never heard of them because they don't troll people with deliberately outrageous sexist comments and they are not pumped up, self-important media hacks who give trolls like that attention."
Valizadeh has been contacted for comment but did not respond by the time this story went live.