The refugees living in squalid conditions in Calais are, according to David Cameron, "a bunch of migrants".
Help Refugees, a new group that traces its origins back to a supply run to the "Jungle" camp a few months ago, set out to dispel the prime minister's "de-humanising" choice of words to describe the people seeking shelter there.
The group produced this video, in which its members picked around 40 people at random to list their profession and the results show the diversity of the people who have risked so much in the hope of a better life in Europe.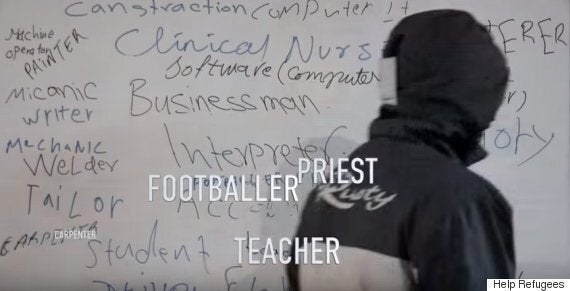 Help Refugees co-founder Lliana Bird said: "We wanted to highlight that many of the refugees living in Calais are in fact skilled and talented professionals with much to offer society.
"In a random group of around 40 refugees we found they had left behind careers as diverse as pro-footballers, clinical nurses and animators, so just think what a pool of untapped talent may be lying amongst the 6000 residents.
"Let's make sure we aren't missing out on the next Mo Farah by de-humanising them all as a 'bunch of migrants'."
Cameron made his comment while condemning Jeremy Corbyn's visit to another camp in northern France.
At Prime Minister's Questions, Cameron shouted: "Look at their record over the last week. They met with the unions and gave them flying pickets.
"They met with the Argentinians, they gave them the Falkland Islands. They met with a bunch of migrants in Calais they said they could all come to Britain.
"The only people they never stand up for are the British people and hardworking taxpayers."
During his visit to the Grande-Synthe Camp, near Dunkirk, Corbyn said: "We have got people here who have been here for months, if not longer than that, with no proper education, no access to doctors, no access to dentists, limited access to food - in very cold, very wet conditions.
"These conditions are a disgrace anywhere. We as human beings have to reach out to fellow human beings."
Related