Police say they will not prosecute the driver of a car who rammed a cyclist in a "brutal attack" - despite the incident being captured on video.
Footage shot on the cyclist's helmet-camera clearly shows the black Volvo's number plate, but it was a hire car and Nottinghamshire Police said there is not enough evidence to prove who was driving.
The car rammed the bike and did not stop, despite sending the cyclist flying. In the video, the victim describes suffering "severe pain" in his back afterwards and he felt like he could not breathe.
Instead, a man who had been eligible to drive the vehicle was fined just £150 for failing to provide driver details.
In a statement, Nottinghamshire Police said it was "disappointed" with the outcome.
The victim, who wished to remain anonymous but calls himself Reginald Scot on YouTube, called the incident a "senseless and brutal attack on a fellow human being".
He said: "I was hit right in the small of my back, I received a severe back injury and internal haemorrhaging from the impact. It took 4 months for me to recover from my injuries with a further month of physiotherapy to reach normality.
"To this day I have no idea why the driver did this to me, there was no confrontation with any driver prior to the attack, I do not know the driver or the car.
"I was not riding my normal route at my normal time so I do not think this attack was planned. Just a senseless and brutal attack on a fellow human being…
"Despite the evidence, the police and CPS failed to bring the driver in this savage attack to justice… The driver is still out on UK roads."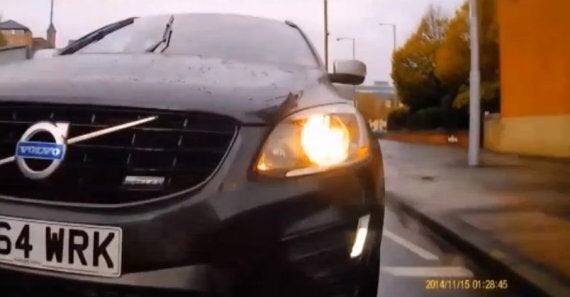 Pictures taken seconds before the impact
The incident happened on 15 November 2014 but the victim has waited until now to post the video online to highlight what he perceives to be a lack of justice.
Nottinghamshire Police confirmed it had investigated the incident.
"While we share the victim's disappointment at the outcome, we feel the investigating police officer made every effort to ensure that the occupants of the car were found and brought before the courts," it said.