'X Factor' bosses have denied speculation that the show will be rested next year, following reports it would be taking a break.
READ MORE:
After what can only be described as a difficult year for the ITV talent show, it had been claimed that the show would not be returning to our screens next year.
However, bosses have now insisted that this is not the case, with a Syco spokesperson telling The Sun: "'The X Factor' will not be rested in 2017."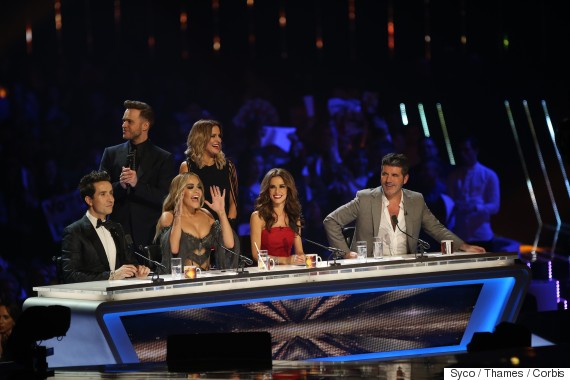 The most recent incarnation of the 'X Factor' team
The Daily Mail claimed on Thursday that ITV would be resting the show "for at least a year" when the upcoming 13th series wrapped up at the end of 2016, to make room for 'The Voice'.
A TV insider reportedly told the newspaper: "They will rest 'The X Factor' for 2017 because there is no way they can run two singing contests and 'BGT' in the same year, they cannot do it.
"Particularly because the 'X Factor' contract is coming to an end and it has been a disaster. If 'The Voice' is a success it's unlikely they will bring back 'The X Factor' but if 'The Voice' is a disaster they have 'The X Factor'."
The most recent series of 'The X Factor', which wrapped up in December, was plagued with various problems, most notably when it came to viewing figures.
The show lost out in the ratings battle to 'Strictly Come Dancing' week after week, but also, embarrassingly, failed to pull in the same ratings as 'Countryfile' on two separate occasions.
Controversy also arose around the live final, when it was suggested that producers had put measures in place to make eventual winner Louisa Johnson shine brighter in comparison to competitors Reggie 'N' Bollie.
Louisa's winning single, a cover of Bob Dylan's 'Forever Young', went on to become the lowest-charting debut single for an 'X Factor' champ in the show's history, with reports claiming that Simon Cowell was keen to rush-release her album in March, rather than waiting until later in the year, as is usually the case.
Axed presenter Dermot O'Leary - who was replaced by Caroline Flack and Olly Murs last year, to a mixed reception - recently suggested giving the show a year off could be the best way to breathe new life into it.
LIKE US ON FACEBOOK | FOLLOW US ON TWITTER