An irate audience member on BBC's Question Time has slammed Conservative minister Amber Rudd and other Tory MPs, who are supposedly backing a Brexit from the EU, for staying silent on the issue.
The Yorkshire woman labelled the Energy Secretary a "Eurosceptic" who would "rather look after her own interests than actually come out and lose her cabinet position."
The comment during the show, shot in Bradford, comes amid David Cameron's ruling that ministers are not allowed to speak out against the EU until a renegotiation deal is secured in a fortnight's time.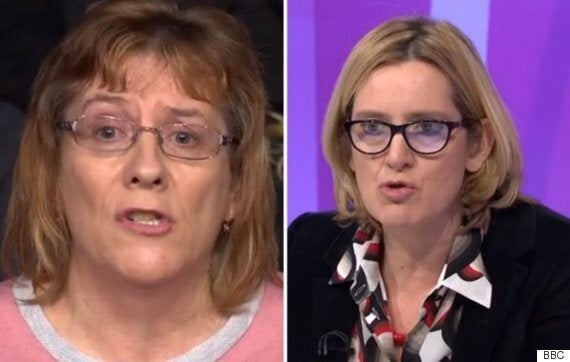 Audience member (left) slams Amber Rudd (right)
"David Cameron knows she (Rudd) hasn't done enough. That's why he is gagging his cabinet ministers from saying what they really think," the unnamed woman said.
"Reportedly, Amber Rudd, you're a Eurosceptic and what really disappoints me is that people like you would rather look after your own interests than actually come out and lose your cabinet position because he's threatened to sack you. And that isn't good enough unfortunately," the audience member said.
In response Rudd said she is yet to decide how to vote, continuing: "I would say that it's perfectly reasonable for the whole cabinet to support the Prime Minister in getting the best negotiation possible.
"Whether there are people who still think they'd prefer to be out, they still support the fact we have the referendum they want the British [people] to have the best choice.
"And the best choice is going to be the best negotiation we could have or out. You wouldn't want a worse negotiation or out, you would want to have the best so that's the cabinet support it."
Rudd also dropped a big hint that the European Union referendum will be held on June 23.
The Energy secretary said the government hoped to hold the vote "at the end of June".
Earlier this week, David Cameron added to the speculation around the date after he said the referendum would not be held "within six weeks" of the Scottish, Welsh and Northern Ireland elections which take place on May 5.
The Prime Minister has recently revealed he would vote to stay in the EU under the proposed deal and repeatedly said he will urge Britons to back membership if there is sufficient reform.
Also on the panel was Shabana Mahmood MP, Paul Nuttall MEP, Baroness Brinton and Isabel Oakeshott.