In an "incredible display of humanity an elderly woman reached out to an aggressive man who was scaring other commuters on a train, then held his hand and comforted him as tears welled in his eyes.
The scene, in Vancouver, Canada, was captured by Ehah Taha, who was so moved by the stranger's actions he posted a picture of it on his Facebook page.
Taha wrote: "I saw the most incredible display of humanity on the sky train. A six foot five man suffering from drug abuse and\or mental health issues was being very aggressive on the bus with erratic movements, cursing, shouting, etc.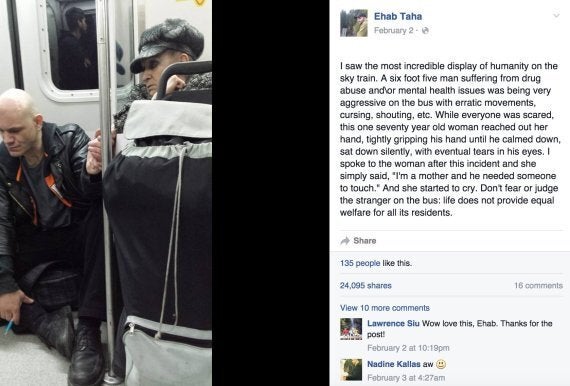 In what has been called an 'incredible display of humanity', an elderly woman comforted an aggressive man on a train
"While everyone was scared, this one seventy-year-old woman reached out her hand, tightly gripping his hand until he calmed down, sat down silently, with eventual tears in his eyes."
Taha said he later spoke to the woman, who simply said, "I'm a mother and he needed someone to touch."
He ended his post by writing: "Don't fear or judge the stranger on the bus: life does not provide equal welfare for all its residents."
Taha's post has been shared over 24,000 times since Taha uploaded it on Tuesday.
It is not known why the man was acting erratically on the train.