Lady Gaga silenced her naysayers with a show-stopping performance of the American National Anthem at Sunday (7 February) night's Super Bowl.
READ MORE:
The 'Poker Face' singer pulled out all the stops as she took to the stage ahead of the biggest game on the American sporting calendar, to perform 'Star Spangled Banner'.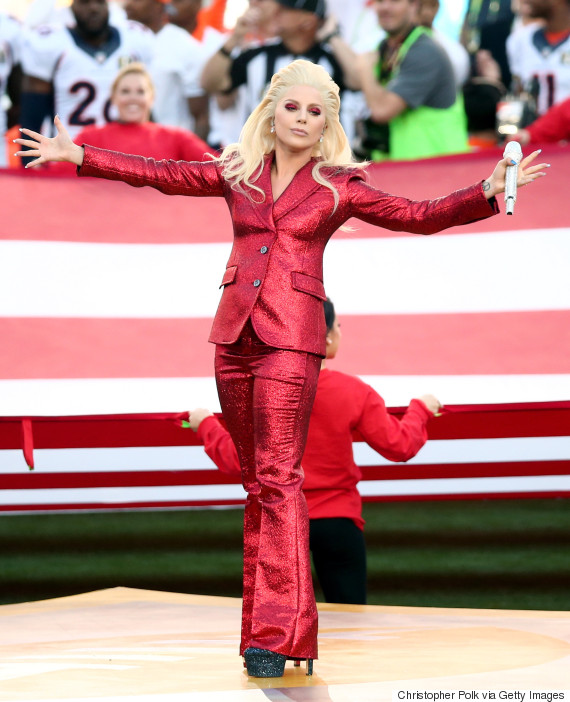 Lady Gaga slayed with her rendition of 'Star Spangled Banner'
Dressed in an spangly red trouser suit, Mother Monster hit notes we've never heard her hit before as she wowed the crowd at the Levi's Stadium in Santa Clara, California.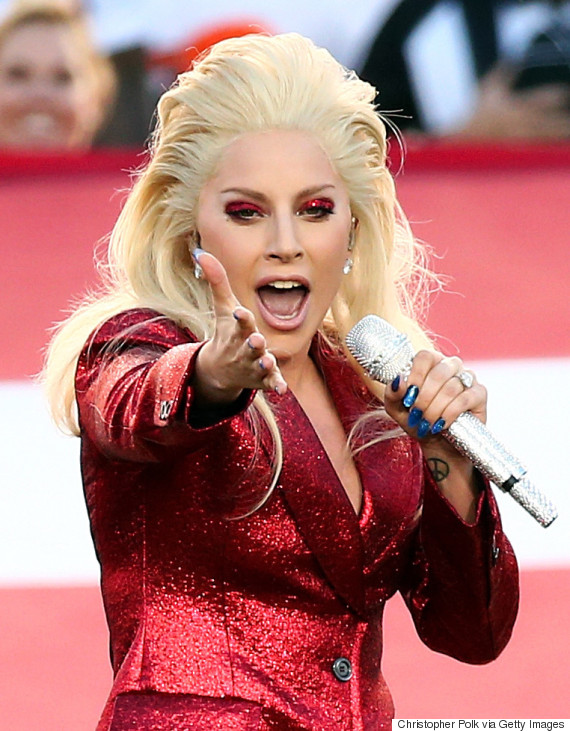 Gaga's performance shocked fans
And her performance had quite a reaction on Twitter too, with many users claiming they had no idea that she could sing like that.
Wow. I wish Lady Gaga would sing like that more often. What a beautiful voice..

— Jessie Owens (@Jessie24Owens) February 7, 2016
Didn't get to tweet it at the time but @ladygaga SSB was truly incredible. Just behind Whitney for me for best at the SB.

— Richard Deitsch (@richarddeitsch) February 8, 2016
Oh, and Lady Gaga… I've never heard the national anthem done so well.. WOW!!!

— Jordan Knight (@jordanknight) February 8, 2016
Wow!! @ladygaga singing American National anthem = goosebumps!

That woman has an amazing set of lungs!

— Renee Gartner (@renee_gartner) February 7, 2016
Oh wow. I always forget Lady Gaga is actually talented. #SB50

— Elon James White (@elonjames) February 7, 2016
Of course long-term Gaga fans knew that she had this performance in her, especially after her 'Sound Of Music' tribute at the Oscars last year.
In case you missed it. Well done Lady Gaga! We learned you can sing last year at the Oscars covering Sound of Music. https://t.co/7j8QTetEFv

— Bill Stanley (@nomadpreacher) February 8, 2016
Everyone's talking about Gaga's amazing performance like they didn't know she could sing like that. Cmon guys, look at her jazz album

— Megan Liebenow (@Megan_Liebenow) February 8, 2016
Random people: Wow, who knew @ladygaga could sing like that?!?
Gaga fans: Bitch really? #SB50pic.twitter.com/S6mtxOCagD

— liz (@rabeatkinsons) February 7, 2016
Honestly it's 2016, if you're still 'shocked' about @ladygaga's insane musical ability that is just tragic

— Ben J. Pierce (@BenJPierce) February 7, 2016
Ahead of the show, Gaga took to Twitter to share her excitement:
I'm honored to sing for the finest athletes, coaches & fans in the USA #SB50@NFL 🇺🇸 Sun. by the dawns early light.. pic.twitter.com/k0aew0mk7R

— Lady Gaga (@ladygaga) February 6, 2016
It's going to be a busy few weeks for Gaga, as she will also be performing a tribute to the late David Bowie at next week's Grammys.
Speculation has also begun mounting among her fans that she could finally be ready to release her new material, as she's been working on her fourth studio album for the last year.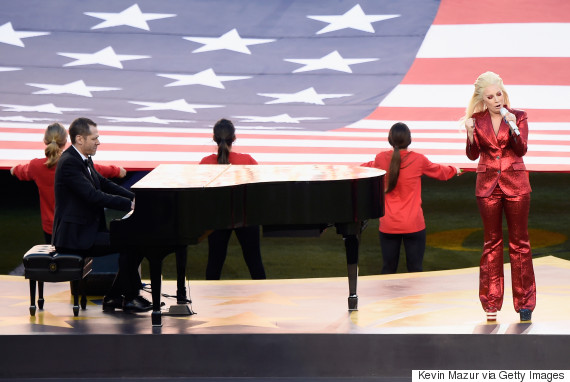 Gaga is gearing up for the release of new music
It will serve as the follow-up to 2013's 'Artpop', which divided fans and critics, and also failed to live up to the massive sales of previous albums 'The Fame' and 'Born This Way'.
Watch Gaga's full performance in the video below...
LIKE US ON FACEBOOK | FOLLOW US ON TWITTER