For anyone who has ever spent their work day fantasising about being spotted by a model scout, Olajumoke Orisaguna's remarkable story is the stuff of your most wishful daydreams.
Orisaguna, 27, was working as a bread seller in Lagos, Nigeria, when she unintentionally walked into a shot photographer Ty Bello had lined up of Tinie Tempah.
Tempah was taken by the bread seller, sharing a photo of her on his own Instagram account.
However, at first Bello didn't give the interloper a second thought.
"The moment didn't look special at all," she wrote on Instagram. "If anything she stood there a little confused.
"Some people asking her to leave the set and others asking her to stay. I signaled [to ask] if it was ok to take her photograph and she agreed, and I pressed on my shutter so she could move ahead.
"I was wrong to have paid her such little attention. Every frame with her in it was perfect."
Looking through her photos after the shoot, Bello found herself drawn to the figure of Orisaguna and decided to appeal on Instagram for information about the mysterious stranger who pulled focus from the pop star.
"Who is she?" Bello wrote. "Everyone has been asking if this lady is a model... It was a perfect coincidence... She just happened to be walking by while I photographed. It happened so fast.
"She definitely should be a model. I'm happy to help her build her portfolio if she's interested.
"She's so beautiful and photographed so well. I'll find a way to track her down somehow. You guys can also help."
On Thursday 4 February, Bello revealed she had been successful in her quest to track down the bread seller and just a few days later she shared her first shoot with Orisaguna, which featured on the cover of Nigerian magazine 'This Day Style'.
"This just made me cry," wrote Bello. "She really is a blessed woman with an amazing story . I almost can't believe it."
Orisaguna also posed with her second child, 14-month-old Grace.
Bello said that Orisaguna had shared with her, "her journey to Lagos".
"A hair stylist from Ire in Osun state but not making enough profit between her and her husband, - a sliding door installer from same village, - to care for their two young children," wrote Bello.
"At the invitation of a distant relative who knew someone operating a bakery, she relocated to Lagos with her 14-month-old daughter to give bread hawking a try, leaving her husband and older five-year-old behind.
"As I listened to her I wondered if the beauty I had seen on my screen as I edited my image was a fluke... well until she smiled. I realised that I was wrong. I had in fact ,underestimated the beauty of this 27-year-old woman.
"As always it was her eyes and of course her perfectly chiseled features that jumped out at you when she chuckled. This lady belonged in front of my camera."
"After a conversation with her husband telling him the story of our meeting I decided I was going to photograph her that very afternoon," continued Bello.
"Within an hour Bimpe Onakoya, one of Nigeria's leading makeup artists, and Zubby one of my favourite hairstylists were at my studio to work magic.
"They had both followed the story online and were more than happy to put in their very best for her.
"Olajumoke, with curly extensions out, revealed a short natural Afro that beautifully hugged her face. @Bimpeonakoya also had decided to keep the make up minimal.
"She stepped in front of my camera and I almost couldn't recognise her. She moved different too. Jumoke looked straight into my lens emoting like she had done this all her life.
"I knew we had found a star."
Orisaguna is now signed to Few Model Management.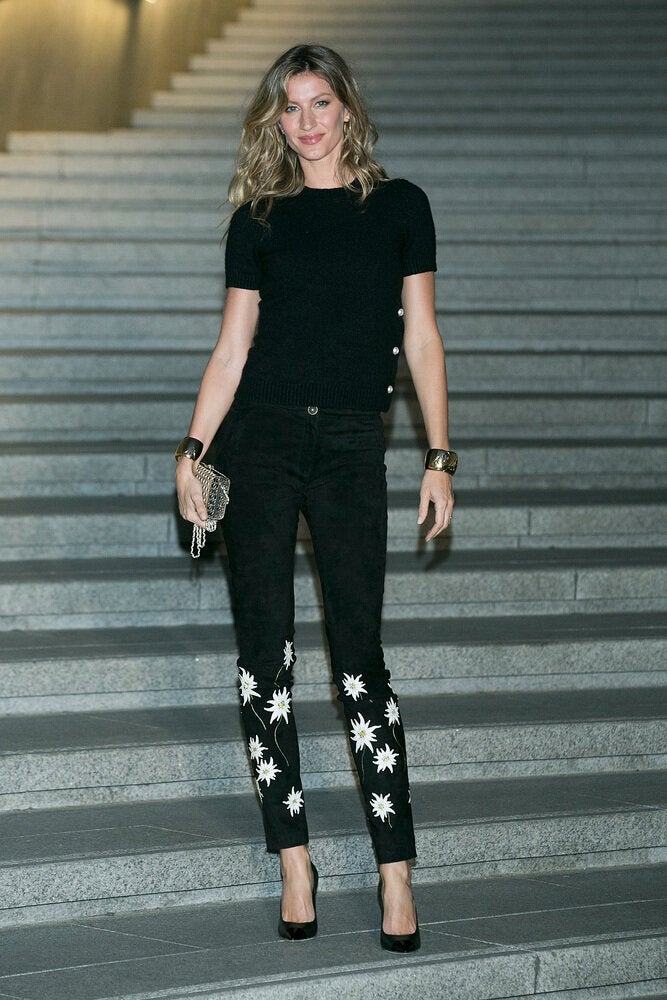 Forbes' Highest-Paid Models 2015