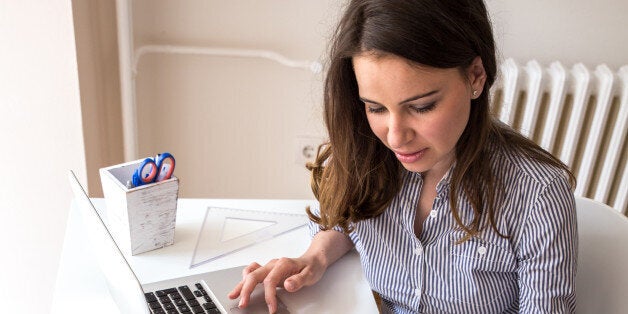 The new year is always a good time to think about making a positive, lasting change in your life. Whether it's greater confidence, a new challenge, a promotion at work or a brand new career you're looking for, enrolling for an Open University course is a great place to start.
The OU offers everyone a chance to realise their ambitions and fulfil their true potential, regardless of their previous education or experience – from those who left school at 16 with no qualifications to graduates looking to take the next step.
With hundreds of courses to choose from with no formal entry requirements – all you need to change your life is a computer, reliable internet access and a good grasp of the English language.
Sound too good to be true? It's not surprising that so many people assume there must be a catch. But with The Open University, there really is no catch. Here, we dispel some of the most common myths around part-time learning at The Open University.
Myth #1: "It's not a 'proper' degree."
The OU offers a whole range of qualifications, from certificates and diplomas to honours degrees and postgraduate qualifications – all of which are not only 'proper' and fully accredited, they are highly rated by employers. As testament 86 of the FTSE 100 companies have sponsored staff on OU modules and more 1,300 employers including IBM, NHS and the Ministry of Defence choose the OU to train their employees. Also much of the course material is created in collaboration with professional bodies such as Chartered Institute of Management, the Nuclear Skills Academy and Association of Chartered Certified Accountants making it relevant to the sector's needs.
And it's no secret that Open University research and materials are widely used by traditional universities, showing the level of respect the OU has within the HE sector as well as the workforce.
The OU Business School is the only distance learning provider with a triple accreditation for quality from Association of MBAs (AMBA), European Quality Improvement System (EQUIS) and Association to Advance Collegiate Schools of Business (AACSB) putting it in an exclusive group of top 1% of global business schools.
There are two types of honours degree on offer at The Open University. For a degree in a named subject, you'll study mainly in your chosen subject with the option of including modules from other subjects if you wish. But it's the 'Open' degree that sets the OU apart from its traditional counterparts. This allows you to tailor your qualification to your particular career or personal interests by combining a range of modules from similar or different subjects.
Once you've completed your qualification, you'll be invited to don your cap and gown at a graduation ceremony to receive your certificate and celebrate with your fellow graduates – just like you would at any bricks-and-mortar university.
Myth #2: "You don't get the support from tutors"
It's easy to assume that if you're doing the lion's share of your studying at home, you won't get the same level of tutor support as you would in a traditional university. But with the help of the latest advancements in technology, your tutors are there to help you every step of the way, offering ongoing tailored support and feedback by telephone, email and computer conferencing – as well as personal contact at face-to-face group tutorials and day schools. Most tutors are professionals in the field they teach, which means they combine academic theory with real life experience giving genuine examples of how learning can be implemented.
"I was given fabulous tutors for every course. They would go over ideas and concepts and help me if I was struggling. Sometimes they'd email me to share documents or information they thought I might find useful," says Open University graduate Zoe Pardoe. "I was able to call them and get much quicker responses than my friends who were at bricks-and-mortar universities. I also felt they really appreciated the challenge it can be to do a degree part-time."
Myth #3: "It's isolating"
While it's true that most OU students learn in their own homes, they are by no means alone. On the contrary, The Open University boasts the country's largest student community – over 175,000 students undertook Open University Qualifications last year, meaning there's a huge number of students all around the country.
Thanks to the explosion of social media, OU students are better connected now than ever before. You can connect online – via course forums, Twitter and Facebook – or get together in person, at tutorials and study days, or by setting up local groups. You can also join OU Students Association to meet other students and get support.
Myth #4: "You have to have A-Levels"
There are no entry requirements needed to study at The Open University – the only qualifications that matter to the OU are the ones you leave with. Offering everyone a chance to realise their ambition and fulfil their true potential – regardless of previous education or experience – the OU will do everything it can to help you succeed. The only thing it asks for in return is a commitment to your studies, dedication and a passion to learn.
Of course, for those who didn't flourish at school or who have been out of formal education for many years, the prospect of Higher Education study can be a daunting one. That's why the OU offers a range of Access courses. This is an ideal starting point if you have little or no experience of university-level study, you need to brush up on your study skills or build your confidence around studying. Find out more about Access courses here.
You can even get a taste of OU study for free at Openlearn. Online badged courses can help build confidence and motivation for learning, providing a record of achievement which can be shared with friends, employers and educational institutions. Each course is 24 hours in length, spread over 8 weeks, although courses are permanently open to study so you can progress at your own pace.
Myth #5: "It costs a fortune"
The OU believes cost shouldn't be a barrier to achieving your potential so it keeps fees as low as possible and offers a wide range of flexible payment and funding options to make study even more affordable than you might think.
The modular structure of the OU courses means that your studies can be done at a pace that suits you, your lifestyle – and your pocket. You pay for each module separately so you don't have to stump up for the whole qualification upfront. You can even use credit from study you've undertaken in the past – whether it's a part-completed degree or any other qualification relevant to HE – saving you that extra time and money.
From student loans and monthly payment plans to financial support, the OU can help you find a flexible payment option that's right for you and could even mean you pay nothing at all. Over 60% of our new students pay using a student loan.
Myth #6: "You have to watch boring TV programmes"
If the idea of The Open University conjures up images of early morning TV lectures with dusty old men in suits, you clearly haven't been keeping up with the times. The OU, on the other hand, has been doing just that – evolving since its inception, to stay ahead of the game and optimise the student experience with the latest ideas and cutting-edge technology. Much of the course material can be downloaded on mobile devices through an app called OU Anywhere, and content can even be found on Apple's iTunes U.
From synchronised teaching via web conference and listening to audio material on the go to sharing thoughts with fellow students on social media groups, there is nothing 'distant' about distance learning anymore.
With all the rumours laid to rest, there are no excuses left. Sign up today in four simple steps. What are you waiting for?
Register now… in 4 simple steps

1. Choose your course – with a wide and varied range of subjects & qualifications to pick from, the possibilities are endless

2. Start registration: To secure your place, you need to register – don't worry, there's nothing to pay at this stage. Go online to your chosen qualification, select your preferred start date and click on 'Register Now'. The earlier you register, the more prepared you'll be.

3. Choose your modules: You'll be asked to select the module you intend to study in your first year. Some of the modules in your chosen qualification will be compulsory while others may be selected from a list of options.

4. Organise funding: If you're not sure what funding options you're eligible for simply answer a few question on the fees tab of your qualification. If you've opted for a student loan, you'll need to apply direct to Student Finance England (it can take 6–8 weeks for your application to be processed).

5. Complete registration: To complete your registration, you'll need to confirm your payment method and inform the OU that your student loan has been approved and is in place.
If you want any advice about studying, careers or funding options, the OU's student services is only a phone call (0300 303 5303) or email away.